The Manning Hub is a multi million dollar project to create a new 'heart' for Manning and provide the community with a vibrant, connected and attractive precinct integrating community services and social activities.
Manning Community facility incorporates the relocated Manning Library, a community hall, Manning Child Health Clinic, Moorditj Keila Aboriginal Group, a sporting clubroom for Manning Rippers Football Club and an early years' centre, home of the Manning Toy Library and a new Manning Playgroup association.
Construction of the Manning Community facility commenced in June 2015 and was completed at the end of 2016. The facility opened its doors to the public in February 2017.
Manning Laneway
Phase Two of the Manning Hub project focused on connecting the commercial area to the community facility with the extension of the pedestrian laneway through the former deli shop and updates to the streetscape and car park surrounding the Welwyn Avenue shops.
Related documents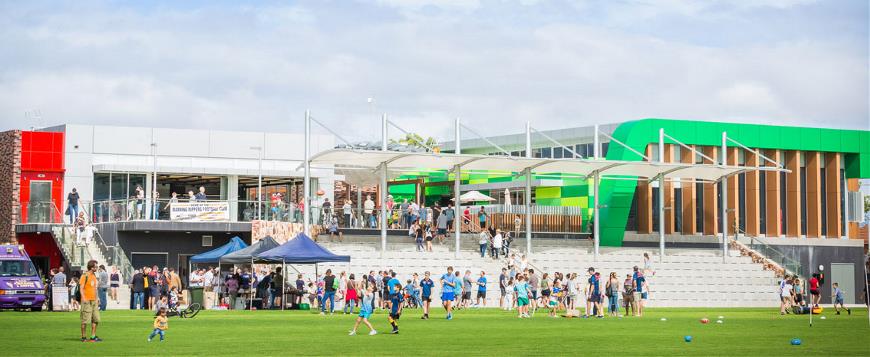 The Manning Community Hub provides the following benefits and features for the local community:
Sustainable, modern and multipurpose spaces for groups and community use
An integrated open space with pedestrian orientated development, with linkages between James Miller Oval, the Community Centre and at a later stage, the Welwyn Avenue shops
Design that activates the area and encourages passive surveillance, based on the principles of crime prevention through environmental design
The provision of family orientated services in one location
Economic development, investment and employment opportunities for the local community
Diverse housing options with the introduction of mixed use development
Opportunities for public art and the inclusion of Aboriginal culture and local heritage creating a vibrant cultural precinct
Basement level car park, which maximises the opportunity for public open space and waterwise landscaping at ground level.

Place vision and community engagement
As part of the place vision for the public outdoor space at the new Manning Community Hub, the City commissioned Social Fabric to design and facilitate a community engagement process.