Integrated Planning & Reporting
The Integrated Planning and Reporting (IPR) Framework aims to ensure integration of community priorities with strategic planning for Council, as well as implementation of the objectives that have been set from these priorities.
The diagram below shows how all of the elements of the framework fit together to deliver council priorities which are informed by the community vision and aspirations. The IPR provides a framework for establishing local priorities that are linked to operational functions.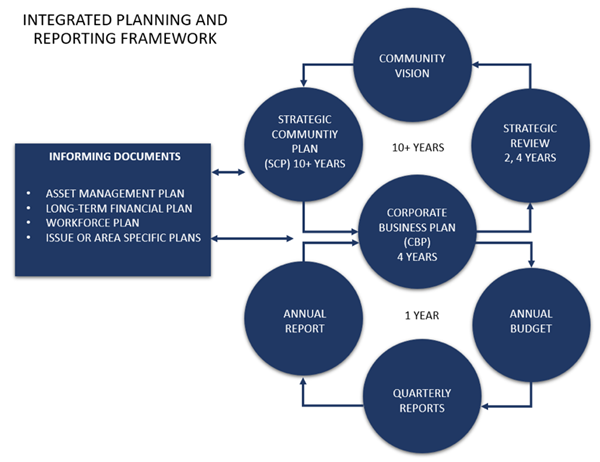 Corporate Business Plan
The Corporate Business Plan 2022/2023–2025/2026 guides the implementation of the Strategic Community Plan (SCP). It translates the aspirations and strategies of the SCP into operational priorities and indicates how they will be resourced over a four-year period.
The CBP outlines in detail the projects, services, actions, operations, resources and performance measurements required to ensure delivery of the SCP. The CBP is reported on quarterly and updated annually.
Following Council endorsement of the Strategic Community Plan 2021-2031 in December 2021, the Corporate Business Plan was reviewed and updated, and subsequently endorsed by Council in November 2022. The CBP delivers across three main aspects:
Planned actions for the delivery of strategies: a detailed listing of the projects and initiatives as annual actions, mapped out over the four-year period
Enabling services and programs: a listing of the services and programs provided by Business Units that support the delivery of strategies through our daily operations
Measures of success: a breakdown of the Key Performance Indicators (KPI's) that will be used to measure our progress at regular intervals against the strategies.

Informing plans
Our capacity to deliver the Strategic Community Plan (SCP) and Corporate Business Plan (CBP) relies on having a thorough understanding of our operating context and establishing and maintaining strong relationships with our stakeholders. This resourcing is considered through other long-term plans that establish the City's financial and non-financial resourcing capacity.
The City's Integrated Planning & Reporting (IPR) framework involves the development, integration and implementation of the following informing plans throughout the cycle of the IPR process:
Asset Management Plan (AMP): A 10-year plan that identifies responsibilities, maintenance standards and inspection regimes required to manage the City's assets and civil liability.

Long-Term Financial Plan (LTFP):

A 10-year plan that guides the City's approach to delivering infrastructure and services to the community in a financially sustainable and affordable manner.

Annual Budget

is based on the projected costing of year one of the Corporate Business Plan, with opportunity to review during the mid-year budget review process.

Workforce Plan (WP):

A four-year plan that identifies the workforce requirements and strategies for current and future operations, outlining how the City will invest in its people to deliver high quality community outcomes.
These informing plans document the financial, asset and workforce constraints to ensure that the City can achieve and deliver the priorities identified in the Strategic Community Plan. Visit the Plans & Strategies page for more information.
Related documents