The City of South Perth's Emerging Artist Award provides upcoming artists and arts students with the opportunity to exhibit their work to the wider community, as well as a chance to share in a huge range of sponsored cash prizes.
In 2019, the City of South Perth's annual Emerging Artist Award Exhibition will be open to the public in the South Perth Community Hall from Friday 18 October until Saturday 26 October 2019.
The Exhibition provides a great opportunity for community members and visiting art lovers to see new works by talented emerging artists. You can vote for your favourite piece to win the People's Choice Award or purchase an artwork for your personal collection.
Subscribe to the City's e Newsletter, and follow the City's Facebook page to stay up to date with information about key dates.
Artists interested in entering this competition should also look out for the Call for Entries which will be advertised in early August 2019.
News Listings
September 2018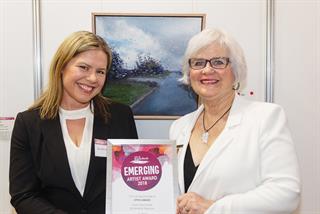 Winners of the City of South Perth's 2018 Emerging Artist Award were announced at the Exhibition launch on Thursday 20 September. The exhibition is open to the public from Friday 21 September until Saturday 29 September, at the South Perth Community Hall.
Judges
Barbara Cotter
, Art Collection Manager at John Curtin Gallery
Charlotte Hickson
, Exhibition Manager Perth Institue of Comtemporary Arts
Ron Nysiztor
, Director Nyisztor Studio
Sponsors
The City recognises the support of all 2018 Emerging Artist Award Premium and Prize sponsors who have helped to support the growth and development of emerging artists in the City of South Perth. If you are a local business or organisation wanting to support the City's Emerging Artist Award, contact us to discuss your sponsorship opportunities.
Premium and Prize Sponsors