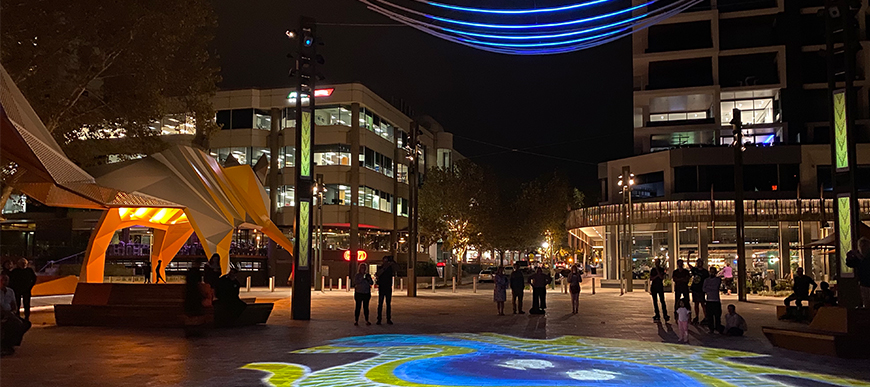 Mindeerup (Min-dee-rup) is the new gateway to South Perth providing a vibrant engaging visitor experience with its open spaces featuring eye-catching public artworks,seating, feature lighting and landscaped areas.
A traditional Noongar name meaning 'place of the shore', the name Mindeerup acknowledges the significance of this area in Noongar culture and heritage.
See and do
Mindeerup is the perfect spot to meet up with friends or simply enjoy stunning views of the Swan River and Perth city.
At the piazza, larger than life animal canopies greet visitors whilst also providing shade. These giant numbat and frill neck lizard installations were conceived in consultation with Perth Zoo, with the animals representing the zoo's focus on conservation and native fauna.
Other equally as intriguing public artworks include a family of friendly meerkats and a trio of promenading emus created by Western Australia artists Mikaela Castledine and Russell Sheridan. These works acknowledge the historical links between the area and zoo, which is just a short walk away, up Mends Street.
Artworks by Noongar artist Yondee Shane Hansen and Art+ were commissioned specifically for the site to ensure Whadjuk Noongar culture is at the centre and a highlight of Mindeerup.
Hansen's understated yet thoughtful ground-level sculptures, Yedi Waangki-ny (Songlines), are found embedded in the paving near the grassed area. Intricate patterns reference storm clouds, emu feathers, rock formations, waterholes and song lines.
Karl Kep Ngoornd-iny - sound and light show
After dark, a spectacular sound and light show comes to life. Conceived by Yondee Shane Hansen and Art+, Karl Kep Ngoornd-iny (meaning Fire and Water Dreaming) is an innovative display that combines projection technologies and an evocative soundscape to share ancient stories and represent the cycles and rhythms of country from an Aboriginal perspective.
October - April
Monday - Thursday, 8pm and 9pm
Friday to Sunday, 8pm, 8.30pm and 9pm
May - September
Monday - Thursday, 7pm and 8pm
Friday to Sunday, 7pm, 7.30pm and 8pm
Eat and drink
Mindeerup is surrounded by some of Perth's finest restaurants, cafes, coffee shops, patisseries and specialty gourmet food stores. Dotted along South Perth Esplanade and Mends Street are an assortment of dining options including Coco's, Rambla on Swan, Mr Walker, Miss Chow's, Automatic Italian Kitchen, Atomic Espresso, La Patisserie South Perth, Thai Orchard, The Good Grocer and The Windsor Hotel and many more.