Kerb side collection refers to the weekly rubbish collection service provided by the City of South Perth.
Find my bin day
To find out when your next kerb side bin collection days are, you can use the Find My Bin Day map.
Regular Green Bin
General domestic rubbish is collected weekly.
Your bin should not contain the following:
Car batteries
Construction, demolition or earth materials such as bricks, building materials, sand, soil, concrete, rocks or asbestos
Hazardous waste, including petrol and flammable liquids, paints, motor oils and fluids, garden chemicals and poisons, pool chemicals, cleaners, acids, bleaches and ammonia, medicines or gas cylinders
Hot ashes or coals.
Recycling Yellow Bin
Your yellow-topped recycling bin is emptied fortnightly on rubbish day. All recyclables should be clean before putting them in the bin and all food and liquid should be removed. Everything should be loose and not in plastic bags.
Accepted materials:
Glass bottles and jars - clean and empty - lids off

Plastic bottles and containers - clean and empty - lids off

Paper, newspaper, office paper, magazines, junk mail and phone books (no shredded paper)
Drink cartons including fruit juice and milk cartons (no silver-lined UHT cartons)
Steel and aluminium cans - clean and empty (no other metal items of any kind)
Cardboard - remove contents and flatten

.
Materials not accepted:
Lids

Material in bags (any recyclable material should be placed loose in the bin)

Plastic bags and light plastic film such as cling wrap

Nappies

Plate glass or broken glass

Clothes or other textiles
Garden waste and food waste

Gas bottles

Aerosols

Polystyrene

Meat trays

China, porcelain or pottery

Liquids of any kind

Ropes, cables and garden hose pipes.
General bin guidelines
Place your bin on the verge by 6am on the day of collection. Bins should be 1/2m from the kerb with the wheels facing your house (as pictured). Bin lids should be closed and not overflowing to prevent unwanted pests.
Your general rubbish and recycling bins should be 1/2m apart from each other. This is to ensure that the hydraulic arm on the collection vehicle is able to reach, lift and empty your bins. Please ensure that your bins are not placed under a tree canopy.
All bins should be returned to your property as soon as possible, generally within 24 hours of service.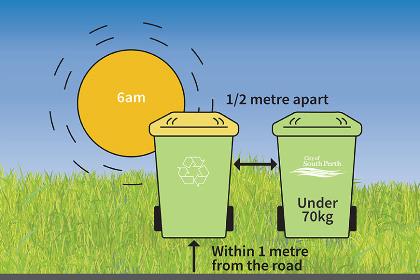 Tips and tricks

To help you get the most out of your rubbish collection service:
Store your bin in a shaded area

Clean your bin regularly using hot soapy water

Wrap all moist and perishable foods in newspaper

Put lawn clippings on top of the material in your bin to prevent jamming.
Gopher or assisted household bin service
Residents who are unable to physically move their bins to and from the kerbside due to disability or illness can apply for a gopher or assisted household bin service. The collection vehicle driver will wheel the bins out and return them to and from an agreed place on the resident's property. The assistance service is provided at no additional cost to the normal servicing charge, provided that the applicant has written support from their medical professional.

Bin stickers
The City of South Perth promotes road safety within the community. Bin stickers placed on household bins serve as a reminder to the road users to adhere to safe speeds on our local roads. The 'Please slow down, consider our kids' bin stickers can be collected from any of the Civic Centre.