At the beginning of 2017 ten permanent public exhibition boxes were installed at the new
Manning Community Centre
, to provide a public display space to showcase local artists, community groups or collaborations between the two.
Current Exhibition

Fish and Recreation from the Derbal Yerrigan and the Djarlgarro Beelier (Swan and Canning) Rivers
On display from April 2023 to July 2023
A group of passionate and talented local men and women from Manning Men's Shed have created a striking community artwork, drawing inspiration from the natural environment.

More than 20 members helped to realise the work, which is made of reclaimed timber and other materials.

Manning Men's Shed manager and artwork designer Kim Horne said the artwork depicts the Swan and Canning Rivers and local fish such as mulloway, bream, mullet and whiting.

The artwork took two weeks to design and four weeks to manufacture, with members of all ages including one in their 80s taking part in the project.

Kim said the piece reflects the many passions of the Shed's members including design, woodwork, metalwork and other forms of craftsmanship.

The group also invited children who attended the St Pius Primary School fete in Manning to paint some of the fish.

Kim described the work as a "fantastic community effort" and said the Shed members have already received lots of positive feedback from the community. He hopes the artwork encourages a deeper connection between people and nature.
An inclusive community group, Manning Men's Shed welcomes both men and women to participate.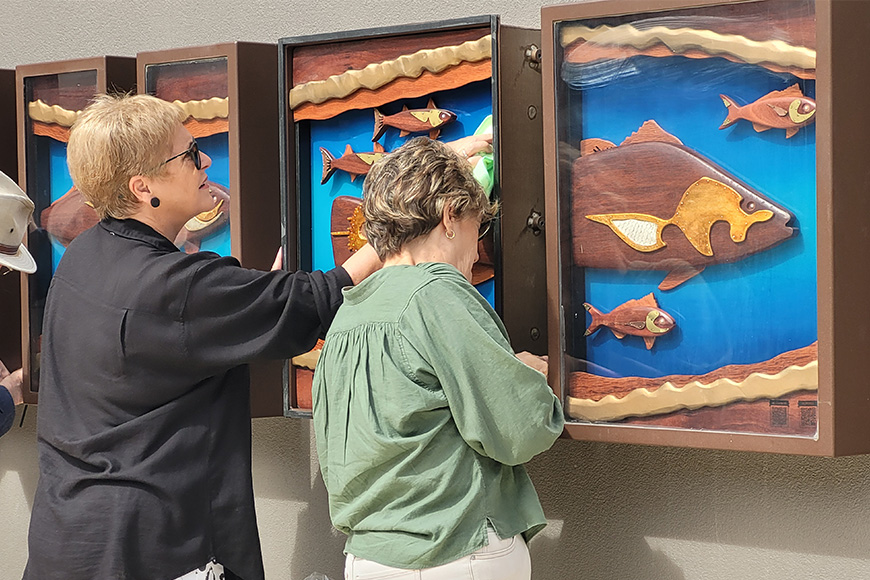 Upcoming Exhibition
Ex-Bo: Origami Waterbirds
On display from August 2023 to November 2023
Ex-Bo is a series of Community Art Workshops run by South Perth Libraries that result in a combined display in the Box Gallery, at Manning Hub. This permanent public gallery is located on the walkway, between the Manning Library and the Welwyn Ave shops, where it is enjoyed by hundreds of passers by each week.
As part of Ex-Bo 2023, community members were invited to create origami waterbirds to be added to the Libraries' community display. The waterbirds created are based on local wildlife from the Djirda Miya (Noongar name meaning home of the birds) or Black Swan Habitat. This area contains a series of interconnected man-made lakes in the South Perth Foreshore that sits east of Coode Street – Hurlingham Lake, Douglas Lake and Lake Tondut. The Black Swan Habitat provides improved habitat for native waterbirds while providing a retreat for bird watching, breeding, ecology, and learning.
The local waterbirds, such as Black Swans and Ducks have been created using recycled books and coloured paper.