South Perth recognised for excellence in planning
The City was proud to win a commendation in the category 'Improving Planning Processes' for our Community Benefit Contribution Framework as part of the
South Perth Activity Centre Plan
.
A first in WA, the framework outlines contributions to be made by developers as part of any significant development in the South Perth Activity Centre. It ensures new developments contribute positively to our community through the provision of new and upgraded community facilities and infrastructure. Projects in the framework were prioritised with input from the local community.
The judges commended the City for providing "…a clear, transparent and equitable community benefit contribution framework to accommodate high density infill development and also deliver tangible and meaningful benefits to the wider community."
The award was accepted alongside our
consultant team
Hatch RobertsDay, Shape Urban and Element.
Projects in the Community Benefit Contribution Framework include:
•
Streetscape and public realm upgrades
•
Street trees and landscaping
•
Upgrades to public open space
•
Transport infrastructure
•
Placemaking initiatives.
This proactive approach will ensure that community benefit contributions are delivered in the most appropriate manner in line with a range of projects that have been identified, costed and ready to go.
The South Perth Activity Centre is the area between South Perth Peninsula, Richardson Park and Perth Zoo. Visit our South Perth Activity Centre Plan page to learn more.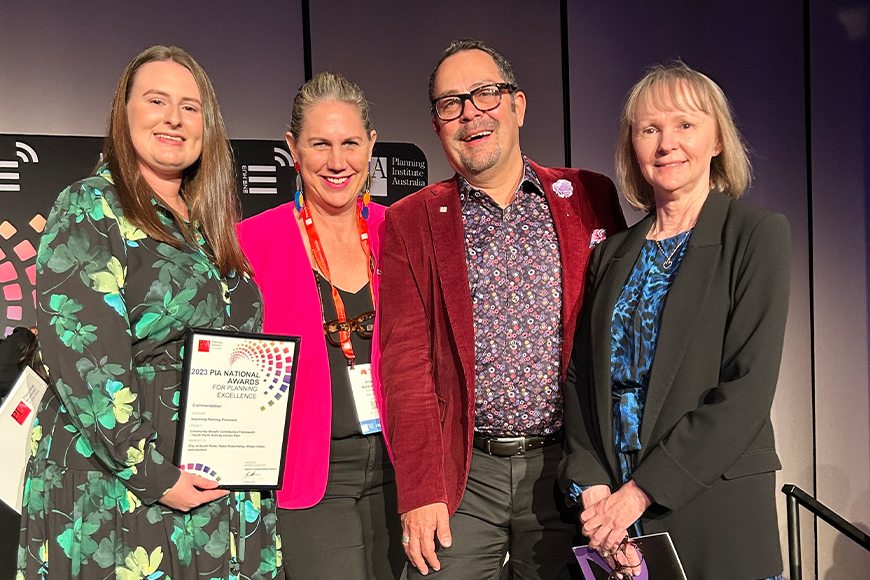 Pictured: Jessica Birbeck - Principal Strategic Planner City of South Perth, Anna Kelderman - Director Shape Urban, Warren Giddens - Manager Strategic Planning City of South Perth, Vicki Lummer - State Manager Planning Institute Australia (WA) and past Director Director Development and Community Services City of South Perth.