Foreshore cycle path upgrades
We are working on a number of improvements at South Perth Foreshore to provide an even better experience for cyclists as part of the City's Joint Bike Plan and Integrated Transport Plan.
An upgrade to the shared path between Queen Street and Millers Pool is now complete and the path is back open. The path has been made wider and is constructed from asphalt to create a smoother riding surface and make the area safer for pedestrians and cyclists alike. Works were partly funded by the Australian Government's Local Roads and Community Infrastructure Program.
Our next project to install raised priority crossings is now underway. Crossings are being constructed where the bike path intersects with the road at Coode Street, Douglas Avenue and Witcomb Place. The crossings will improve safety by giving clear right of way to cyclists. We are proud to be the first local government in the state to implement the design which has been developed in consultation with Main Roads WA.
Works are planned to be complete towards the end of January. In the meantime we are asking pedestrians and cyclists to please be cautious and follow the works signage in the area.
Find out more about the Integrated Transport Plan and Joint Bike Plan.
Related Articles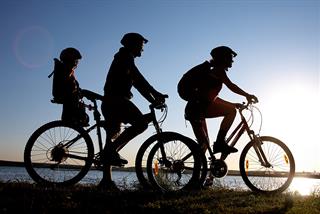 Improving our cycle paths
This year the City will focus on key cycling infrastructure projects on the South Perth Foreshore between Millers Pool and Mindeerup, along sections of the Canning Bridge to Curtin link and Waterford shoreline connection.