City of South Perth a friendly place to do business
The City of South Perth has reaffirmed its commitment to supporting local businesses by signing the Small Business Friendly Local Governments Charter.
This new initiative, developed by the Small Business Development Corporation (SBDC), formally recognises local governments that are demonstrating, or working towards, 'better practice' in engaging with their small business community.
City of South Perth Mayor Greg Milner said he was proud to sign the charter and formally recognise the City's commitment to being a small business friendly local government.
"By signing the charter, the City has agreed to a number of actions to help businesses including making on-time payments to small businesses, offering enhanced customer service, having a process in place to handle disputes, and working to reduce red tape.
"We also put forward our own actions tailored to the City of South Perth community. These include enhancing the relationship and interaction with existing business within the City, continuing to engage neighbouring local governments on common interest to maximise the regional benefits to the City, and promoting the City's small businesses through marketing, media and promotional materials and the development of an Economic Development Plan."
The City's commitment to the Small Business Friendly Local Governments initiative coincided with the inaugural City of South Perth Local Business Forum held on Thursday 4 March 2021. Owners and staff of more than 50 local businesses came together at South Perth Community Hall to connect with each other and hear from small business experts Business Station over breakfast.
A varied cross section of industries were represented on the morning including professional services, retail, food and beverage, real estate agents, health and fitness industries. Attendees voted on topics they would like to see covered at upcoming business workshops and were invited to give input into the City's new Economic Development Plan.
"I would like to thank everyone who attended the business forum," said Mayor Milner.
"As the disruption caused by COVID-19 and the recent lockdown continues to be felt by local businesses, it was heartening to see the business community come together.
"Enterprises large and small are keen to not only set up shop in the City of South Perth, but to contribute to and immerse themselves in our community. They are passionate about the local area and want to see all businesses succeed."
To support local business education, the City will host a series of workshops City in partnership with non-profit organisation, Business Station in March, to help local business owners build skills in Facebook, LinkedIn, Canva and Copywriting for websites.
Business owners and their staff are invited to attend the following workshops:
To book visit the Business Support page on the City's website.
For more information about the Small Business Friendly Local Governments initiative, please visit the SBDC website.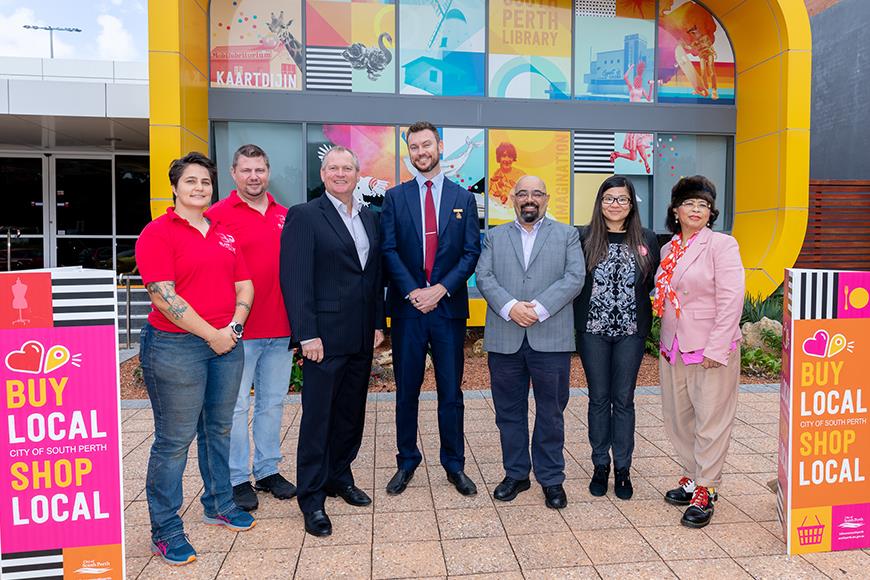 Pictured: Mayor Greg Milner with local business owners and representatives of Business Station Inc. after the inaugural Business Forum held by the City of South Perth.
Media contact
For media enquiries, please contact the City's Communications Officer.