In July 2018, the City of South Perth and Town of Victoria Park adopted the state's first Joint Bike Plan. The plan aims to set out the long-term vision for a strategic cycling network covering both local government areas in line with the State Government's Perth and Peel@3.5million Transport Plan.
The Bike Plan outlines a five-year action plan for improvements to the cycle network and environment for each local government to further investigate and implement. 13 key infrastructure projects are proposed for delivery:
City of South Perth
South Perth Esplanade Project
Canning Bridge to Curtin Link
Manning Road Project
Douglas Avenue Project
Thelma Street Investigation
Kent Street Project
Coode Street Project
Town of Victoria Park
Rutland Avenue Project
Kent Street Project
Albany Highway Investigation
Gloucester Street Project
Oats Street Project
Hayman Road Project
Other recommendations in the plan include partnering with the RAC and Department of Transport on awareness campaigns, continuing to seek funding through the Perth Bicycle Network Grants Program and Federal Government, and improving the collection of bicycle and pedestrian count data on key routes.
Development of the plan included extensive consultation with the community, cycling groups, Curtin University and other key government agencies. People were able to provide feedback on their cycling journey via an online questionnaire, online mapping tools and community workshops.

News Listings
February 2022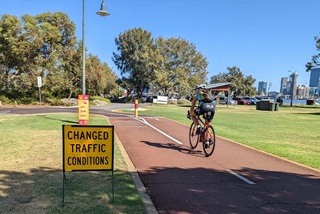 Crossings have been constructed where the bike path intersects with the road at Coode Street, Douglas Avenue and Witcomb Place on South Perth Foreshore.
January 2022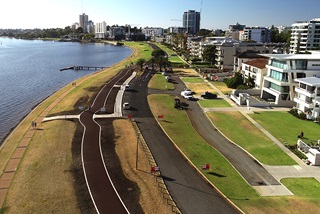 An upgrade to the shared path between Queen Street and Millers Pool is now complete and the path is back open.
October 2021
One of the state's most popular cycling paths will see improvements as one of the priority actions of part of the City of South Perth and Town of Victoria Park Joint Bike Plan.