Community artwork brightens Manning Library
An artwork created by Manning artist Jenna Rose with the help of local children is now sitting proudly in the Manning Library for all to enjoy.
Revealed to the community on 14 February to coincide with Library Lovers Day, the vibrant artwork was created over a series of eight workshops in January 2023 at Manning Community Centre.
The community art project invited local children aged 3 and up to help complete the large-scale canvas which depicts Manning Community Centre and neighbouring James Miller Oval.
The workshops not only allowed participants showcase their artistic talents, they helped to bring the community together, fostering connections and encouraging young parents and children to engage with their local community.
The Manning Community Art Canvas will be on display in the Manning Library for three months.
The artwork was made possible through the City of South Perth's Manning Hub Temporary Activation Program and a Community Development Grant.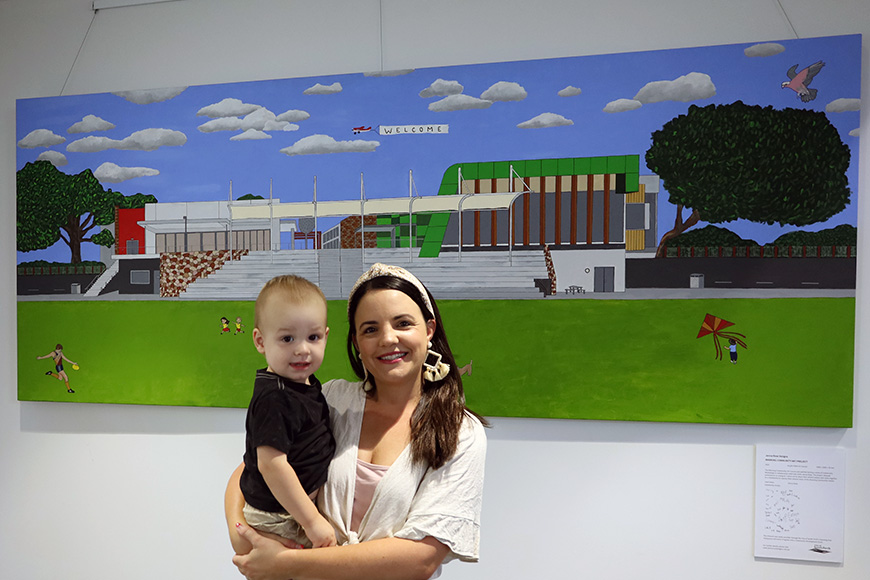 above: Artist Jenna Rose pictured with her son in front of Manning Community Art Canvas she painted with local children.
Contact us
For more information, please contact the City.