Perth Inner City Group to invest in boosting local tourism
The Perth Inner City Group (PICG) is aiming to attract more visitors to its local neighbourhoods through a new destination marketing agreement.
The PICG is a voluntary regional alliance made up of the Cities of Perth, South Perth, Subiaco and Vincent and the Town of Victoria Park.
The group has been active since 2019 and serves as a forum for the local governments to unite, share information and collaborate for the benefit of the broader region.
Perth's inner-city areas are vibrant, diverse areas, home to a broad range of businesses, town centres and shopping precincts, parks and streetscapes, public art, tourist attractions and major stadiums including Optus Stadium, HBF Park and RAC Arena.
The partnership with regional tourism organisation Destination Perth will ensure all the great things to see and do the inner-city region are promoted to people around the world.
The group is a key player in the state's economy, representing 43,869 small businesses, 20 per cent of WA workers and $59.61 billion gross regional product.[1]
The move to one parking app, EasyPark, across the local governments is an example of effective collaboration of the group.
This will make it easier for people to use the same app as they travel throughout the inner-city neighbourhoods.
By presenting a united, strategic, and long-term regional perspective, the PICG aims to deliver better funding, policy, sustainability, and collaborative outcomes for the central Perth region.
For more information, visit the PICG website.

[1] Statistics from Profile ID, Economic Profile, ABS Census 2021.
Comments attributed to City of South Perth Mayor Greg Milner
"The City of South Perth is home to world-class attractions such as the iconic South Perth Foreshore, Mindeerup and Perth Zoo. Known for our beautiful leafy streets, proximity to the Swan and Canning Rivers, and our gorgeous green open spaces, our neighbourhood is blessed with a vibrant shopping, cafe and bar scene, as well as some of the best dining options in the metropolitan area.
"We look forward to continue working with the inner-city Councils and sharing the exciting activations and wonderful attractions that our City has to offer."
Comments attributed to City of Vincent Mayor Emma Cole
"At Vincent, our most popular attractions include beautiful Hyde Park, five vibrant town centres with award-winning dining and alfresco cafe culture and premier sporting and concert venue HBF Park.
"Over the past year, we have seen thousands of travellers visit Vincent for various major events including the Harry Styles concert and FIFA Women's World Cup™ at HBF Park.
"We are looking forward to continue working with our neighbouring inner-city councils and Destination Perth to attract more visitors from across the globe."

Comments attributed to City of Perth Lord Mayor Basil Zempilas
"Perth is Australia's western gateway and we want to ensure visitors from far and wide know what's on offer and what they can see and do while they are here.
"This marketing agreement with Destination Perth will help us put the inner-city front of mind for visitors and locals alike.
"As the State's capital city, the City of Perth is proud to be part of this historic arrangement."
Comments attributed to City of Subiaco Mayor David McMullen
"The 'Subiaco' name is known across our State and beyond. We have a track record of bringing people to our City with initiatives that currently include the international magic of Thomas Dambo's 'Giants': Our unique wooden sculpture is part of an international trail and is enticing people into the inner city on the hunt for all the Giants. As always, our acclaimed Yirra Yaakin Theatre Company - resident at the Subiaco Arts Centre - continues to showcase First Nations' cultural heritage through performance.
"As part of the Perth Inner City Group we have previously put our name in support of pitches to attract international sporting events to Perth, which can bring benefits for us all. We look forward to continuing working with our neighbours, and now Destination Perth, to ensure that City of Subiaco and the rest of the inner-city excels as a destination for visitors locally and from further afield."

Comments attributed to Town of Victoria Park Mayor Karen Vernon
"Collaboration with our inner Perth peers makes better use of our financial and human resources. The Town alone does not have the ability to market our area to national and international markets, but together we can show case our amazing attractions.
"The Town has premium accommodation offerings and the attraction of the stadium, however, we want tourists to linger longer in Perth and find the hidden gems in the Inner Perth region.
"The eat street of Albany Highway is well known with locals, but I want tourists to find these Perth gems.
"I think we take our inner Perth lifestyle for granted, grabbing a coffee and walking around the river to see dolphins and black swans isn't unusual to us, but this is a unique and beautiful experience."
Comments attributed to Destination Perth Chief Executive Officer Sonja Mitchell
"Destination Perth is thrilled to have the Perth Inner City Group join us as a partner in tourism.
"We are very much looking forward to amplifying the outstanding tourism attributes of Perth's inner-city."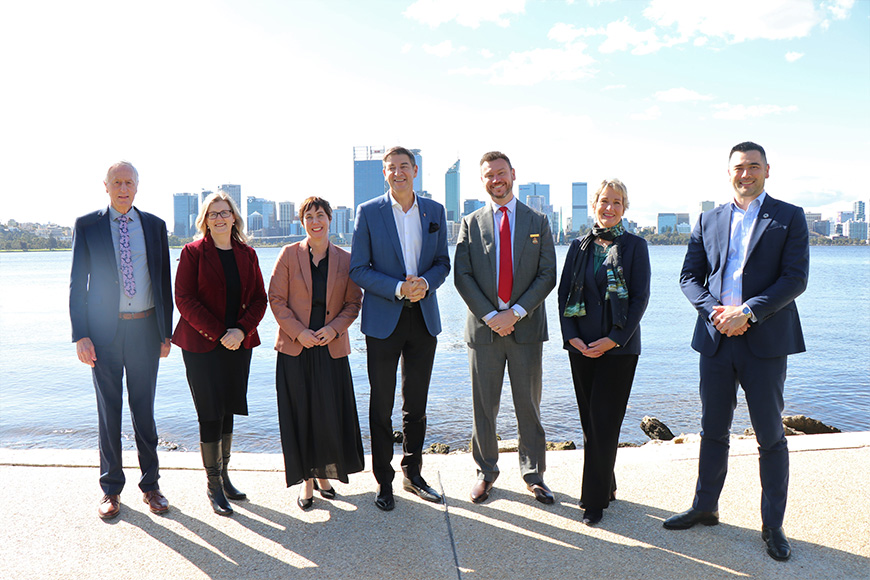 Image description: Destination Perth Chair Ross Dowling, Karen Vernon, Mayor of Victoria Park, Emma Cole, Vincent Mayor, Basil Zempilas - Lord Mayor of Perth, Mayor Greg Milner - City of South Perth, Destination Perth Chief Executive Officer Sonja Mitchell and Mayor David McMullen, City of Subiaco at the South Perth Foreshore.