Neil McDougall lake shows signs of recovery
Extensive environmental restoration work completed in 2022 at Neil McDougall Park has already had a positive effect on water quality at the lake and overall health of the wetlands.

The recent summer showed a noticeable reduction in duckweed growth and algal blooms that have affected the lake for more than two decades due to a drying climate and increased nutrient levels, such as nitrogen and phosphorous, which can upset the natural balance of ecosystems.

Mayor Greg Milner said it was great to see such significant improvement following the City's $1.3 million remediation project, which was almost fully funded by a Local Roads and Community Infrastructure Program grant from the Australian Government.

"Neil McDougall Park currently receives stormwater from four catchments and provides habitat for several bird species and the western long-neck or Oblong turtle, so this work has not only improved the lake's aesthetics, it will also benefit habitat for our local wildlife," the Mayor said.

"For decades, the lake at this much-loved park has been choked each summer with duckweed and algal blooms. The work we have done will help ensure that Neil McDougall Park Lake remains healthy and beautiful all year round."

Federal Member for Swan Zaneta Mascarenhas said: "I'm thrilled to see Neil McDougall Park thriving after the remediation work to restore lake water quality.

"Locals love our native water birds – healthy wetlands are critical to ensure that they are here for future generations. This is a great example of the importance of our wetlands for water quality."

The City partnered with Syrinx Environmental to develop a range of water sensitive urban design features including construction of sedimentation zones, vegetated filtration zones and a treatment wetland for stormwater inflows and re-circulated lake water.

Syrinx Environmental even custom-designed a pollutant trap to help keep debris out of the wetlands.

Further remediation works are planned at the Henley Street end of the park. For updates or more information, please see our Environmental Projects page.
Image (L-R): Federal Member for Swan Zaneta Mascarenhas with some of the City's Neil McDougall Park project team – Construction Projects Officer Ryan Smith, Acting Parks Coordinator Paul Reed, Environment Coordinator Yulia Volobueva – and Mayor Greg Milner.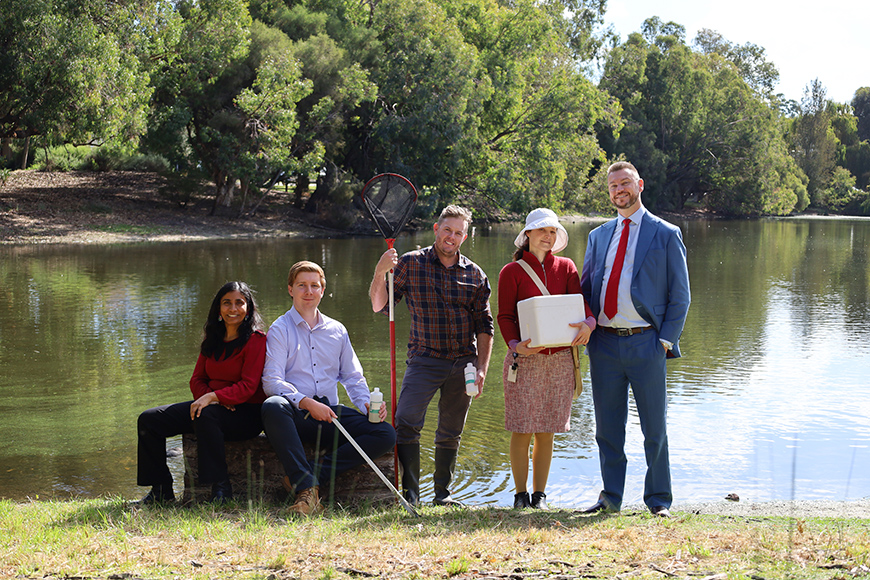 Contact us
For more information, please contact the City.