Easter in the City
The City's local retailers, restaurants, grocers, and service providers are busy getting ready for the Easter Bunny's arrival. Show your support and Buy Local, Shop Local, in the City this Easter.
With so many amazing vendors to choose from, we've pulled together a selection from across the City's shopping precincts for you.
Looking for something sweet? Missy M Sweets has got you covered with decadent
handmade fudge brownie and chunky cookie gift boxes available for delivery. Her
delicious baked goods are the perfect gift this Easter.
Nothing says Easter like flowers. Hop on into Garden Affair and be transported in a
floral wonderland ranging from flowers to houseplants and more. Be sure to wander
through their gift shop, which is full of unique pieces.
Wake up on Easter Sunday with a nice hot cuppa made even more special with a handmade mug from Eucalypt Homewares. With a range of hand-crafted porcelain tableware through to clay classes and workshops, the Australian landscape inspired designs will be sure to brighten any occasion.
If you would like to be part of our directory, register your business via our
online form
.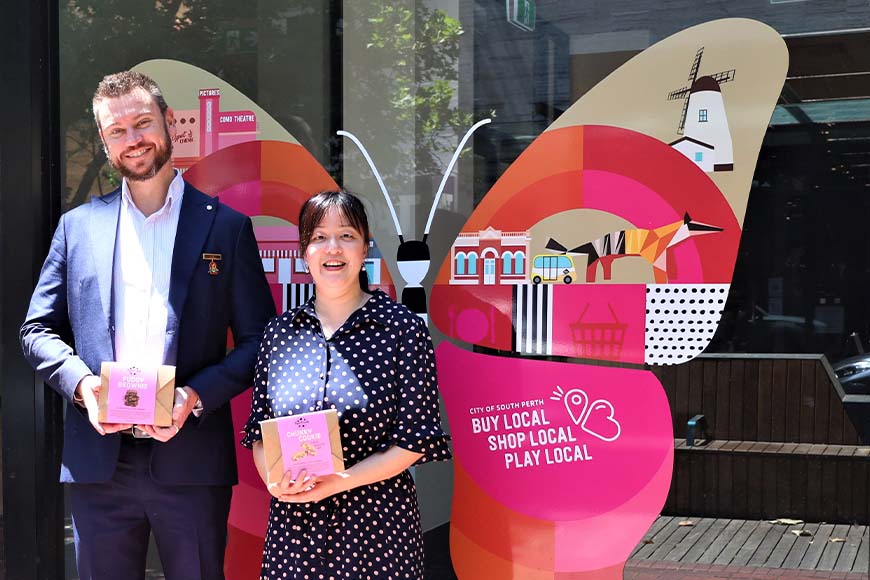 Mayor Greg Milner with Missy M Sweets
Contact us
For more information, please contact the City.