Buy Local, Shop Local: Where to grab coffee in your neighbourhood
As part of the City's Buy Local, Shop Local campaign, we're showcasing businesses that make the City of South Perth a unique place to live, work and visit.
You don't need to travel far to find top quality coffee in the City of South Perth. We've pulled together a selection of neighbourhood coffee shops covering all corners of our City. Some are hidden gems, others are front and centre, and we know there are plenty more where these came from.
Whether you're looking for a comfy place to settle in with a morning cuppa or just stopping by for an afternoon pick-me-up, find your new favourite coffee shop in this list or by visiting the City's Buy Local directory.
Frish and Barc, Como
Owners of friendly local cafe Frish and Barc set out to create a welcoming space with a sense of community. The interior is refreshingly bright and airy, and all-day breakfast menu sure to impress - but the real hero here is their coffee. Using beans by local roaster Top Shelf Coffee, their blends are nothing short of the best. Ask their knowledgeable baristas for a recommendation.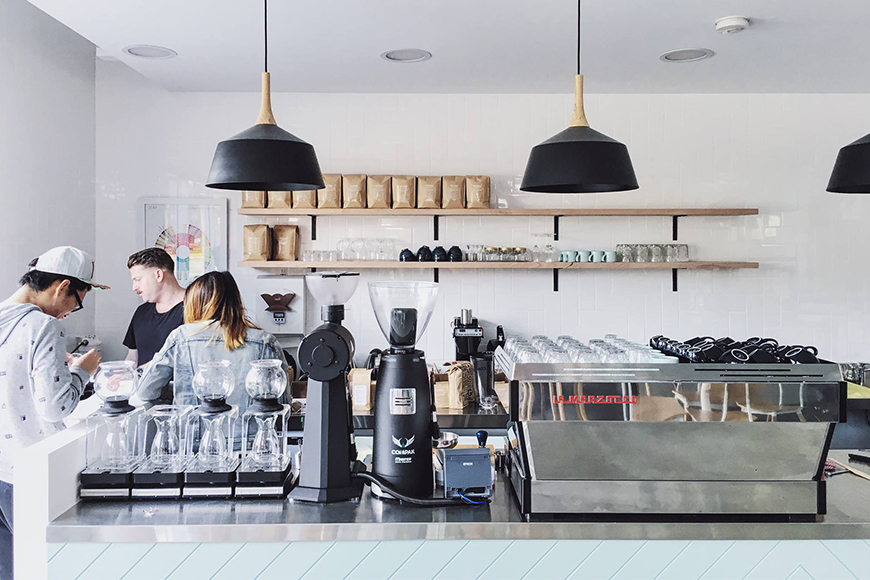 Image: Frisch and Barć
Our Ruby Girl, Como
Located on the border of Manning and Como, Our Ruby Girl is an urban café and small batch providore showcasing locally grown produce, exceptional coffee and sustainable gifts and homewares. With a zero waste philosophy, you won't find any single-use plastics at Our Ruby Girl. Takeaway cups are recycled through the Recycle Me program and they run a commercial composting system for kitchen waste.
The Little Banksia, Kensington
The Little Banksia describe themselves as a friendly neighbourhood café, and we think they've got it just right. With down to earth service and a warm and comfortable atmosphere, you will find yourself wanting to stay all day. The Little Banksia serve coffee from Leftfield Coffee Roasters, one of Perth's specialty roasters, delivering blends filled with vibrant flavour that are sure to bring a smile to your morning.
Rakatacino, Salter Point
You will find family-owned café and pizzeria Rakatacino tucked away on the corner of Letchworth Centre Ave and and Pepler Ave in Salter Point. Opened in 2008, Raktacino is loved by locals and may just be Salter Point's best kept secrets. Pull up a seat outside and enjoy a cappuccino as you watch the world go by.
Halo, South Perth
Located on the Angelo Street café strip, you can't miss boutique espresso bar Halo. Their aromatic coffee is made from the finest Grand Central Coffee beans for a balanced taste with chocolate notes that will keep you coming back. If it's a sweet treat you're after, take your pick from their cabinet of divine raw treats, cakes and muffins to go.
Chatime, Karawara
We couldn't help but sneak an iced tea option into this list. Next time you're shopping at Waterford Plaza, do yourself a favour and grab a refreshing iced tea from Chatime. Just what you need to pep you up after a mad dash around the supermarket, choose from milky tea, fruit tea or even one of their sugar free options.
To find more amazing coffee spots in the City of South Perth, visit our Buy Local, Shop Local directory.
Media contact
For media enquiries, please contact the City's Communications Officer.
Related Articles