Dulcie to support Eskimo Joe at South Perth Sounds
Indie-pop girl band Dulcie will be taking to the stage alongside Eskimo Joe for South Perth Sounds at Sir James Mitchell Park on Saturday 22 February.
South Perth Sounds is a FREE annual community event, with a variety of entertainment for all ages, including the Spare Parts Puppet Theatre performing the Australian premiere of The Last Numbat. There will also be free games and activities, puppet making workshops and a range of gourmet food trucks.
Dulcie is a four-piece band from Perth, known for mesmerising harmonies, smooth melodic layers, beautiful arrangements and driving rhythms.
Dulcie will support multi-award winners Eskimo Joe, who came from humble beginnings in Fremantle and have since performed around the world. Eskimo Joe have sold more than 750,000 albums in Australia and performed at festivals and sold out tours in the United States, Canada, Europe and Korea.
The concert is wheelchair accessible, with free ACROD parking available on Sir James Mitchell Park (opposite Forrest Street). Auslan interpreters will also be on stage throughout the event.
Concert goers are encouraged to use public transport options where possible. Some event parking will be available on Sir James Mitchell Park (via Coode St) for a gold coin donation. Parking restrictions will apply so please read the signs carefully.
Event details: 4 - 8.30pm, Saturday 22 February at Sir James Mitchell Park, Coode Street, South Perth. For more information visit South Perth Sounds.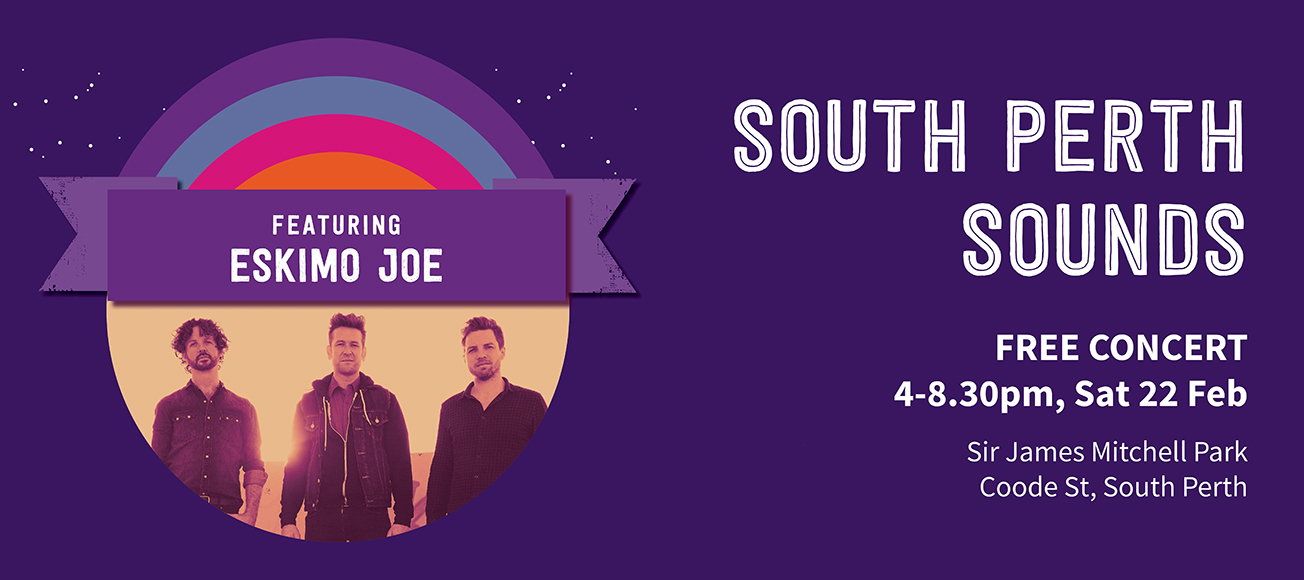 Media contact
For media enquiries, please contact the City's Communications Officer.