New Mends Street mural progressing
Stunning new public artwork for Mends Street by mural artist Joanna Brown of Laeline Design is taking shape at the corner of Mends Street and Mill Point Road.
As part of phase one of the City's Connect South project, public art opportunities in the Mends Street area were identified. In collaboration with a community working group and BP Australia, Joanna's piece was selected for the alfresco area owned by the BP service station.
Set to be complete in early August, the 13m2 mural explores the 'garden suburb' theme and depicts native flowers, tropical elements and succulents. The design celebrates the diversity in colour and form of plants that can be found in front gardens, retail stores, on apartment balconies, dining room tables and – now – on the wall of the BP alfresco.
The mural contributes to the City's Connect South project to enhance and invigorate the Mends Street precinct in South Perth. Works will include the development of a piazza on the Mends Street Foreshore and minor upgrades to the northern area of Mends Street, between Mill Point Road and South Perth Esplanade.
Construction is anticipated to be complete in late 2019 at an estimated total project cost of $7.5 million with $2.5 million from Federal Government National Stronger Regions funding and $5 million from the City of South Perth.
Public artwork is a key part of the Connect South project, with murals commissioned to support the activation of laneways in the area, while involving businesses and the community directly in enhancing their neighbourhood.
City of South Perth Mayor Sue Doherty is excited to see the piece and has long been a supporter of Connect South.
"Public art creates a real vibrancy in the City, and I can't wait to celebrate the final product," Mayor Doherty said.
"Connect South is such an important project for the City. As a key gateway, with the ferry stopping at the end of Mends Street, this will be an amazing transformation for residents and visitors to this area.
"Unveiling this mural is one exciting part of the project, and I can tell you other works are coming along well, too. I look forward to seeing the progress of Joanna's mural, and the project as a whole."
Joanna was thrilled to have her work featured in a prominent space in the City and be part of a project as significant as Connect South.
"It's safe to say I'm pinching myself and feel very grateful to be given the opportunity to work some walls and fill some gaps – I can't wait to see it all unfold," Joanna said.
"Thank you, City of South Perth and everyone who has stopped to talk to us, making us feel so welcome on the streets of your town."
The City is holding a free community event to celebrate completion of the mural on Saturday 10 August 2019, from 10am-12pm. Joanna will judge and announce the winners of a colouring in competition that has been running to support the launch, and there will be a DJ and plenty of fun activities.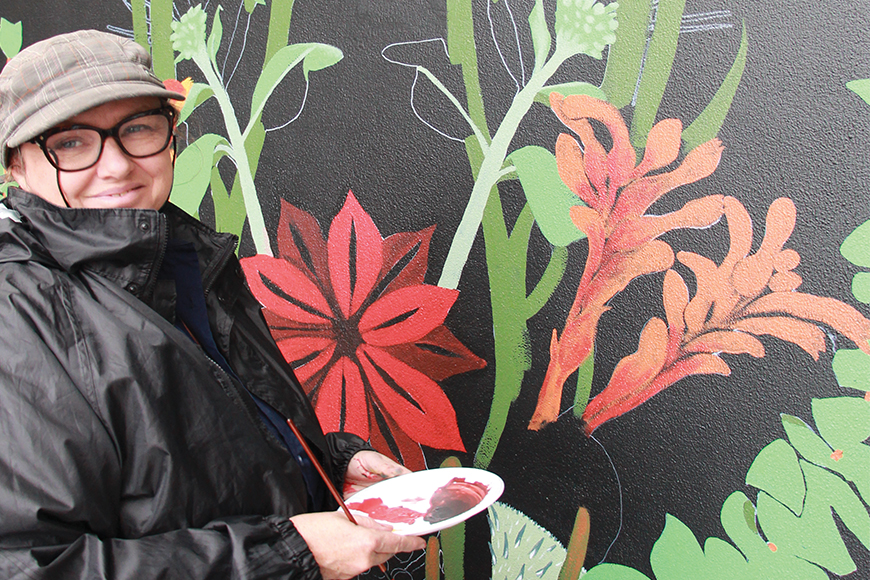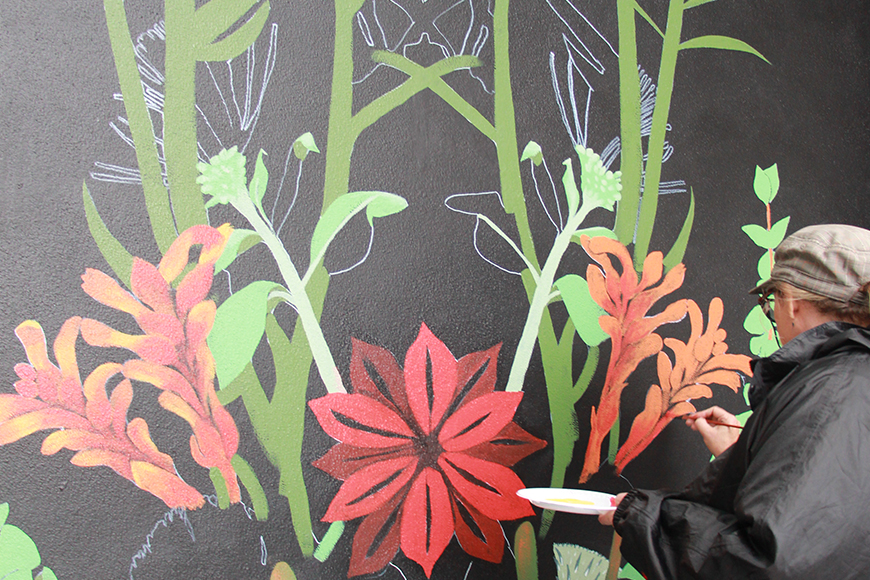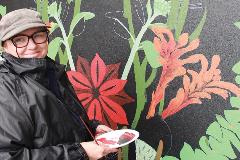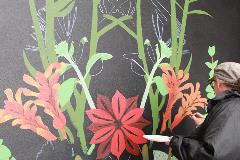 Media contact
For media enquiries, please contact the City's Communications Officer.