Mayor's Diary July 2019
The rain has been so good. Great for the garden (weeds are popping up – one way to have a green garden!), plus time to spend in the kitchen cooking soup and other wonderful winter warming foods. Patches of sunshine have made getting out and about easier – the northern sun is lovely in winter.
Winter may be here, but there are opportunities to keep active and enjoy beautiful places such as the new play equipment at Meadowvale Reserve on Ranelagh Crescent, South Perth. Have you checked it out? I hope this newly revamped play area has enticed young families out when the clouds have parted.

The end of June saw the adoption of our new budget for 2019/20 at the Council meeting , with Council adopting a 1.0% increase in rates for all ratepayers within the City.

The budget allows us to continue delivering the services and infrastructure that makes the City such a great place to live, work and visit.
Our young people
In June and July we've celebrated young people in our community with a number of awards and events. Nurturing critical skills in the next generation is so important, and I've learnt so much from taking on their points of view through these events.
Phillip Pendal Young Heritage Award and Exhibition
In June, I had the pleasure of opening the Phillip Pendal Young Heritage Award and Exhibition, which recognises excellent photography and shows our City through the eyes of our next generation.
We celebrated the 10th running of the award, which acknowledges the late Phillip Pendal, founding member and first President of the South Perth Historical Society, and author of several books about the history of South Perth.

This year marked the 10th presentation of the award, as well as being 60 years on from South Perth's establishment as a "City" and 30 years since the founding of the Historical Society.
Milestones often prompt us to reflect, and these awards represent the importance of considering the past and leading into the future with fresh ideas.
Please encourage friends and family to come along if they haven't already seen this excellent exhibition – which runs until 15 July at the Heritage House Cultural Centre at 111 Mill Point Road, South Perth – and see our City through the lens of our youth.
Speak with Confidence Awards
It's wonderful to be involved with these awards, which challenge young people in years five and six at schools within the City to choose their own topics of significance and write speeches.
Last week the students delivered their speeches to a panel of four judges and audience of teachers, students and family members.
The judges had a tough task this year – all finalists performed exceptionally well. Congratulations to first, second and third place winners Laura Bradbury (from Como Primary School), Kate Jeffery and Tessa Secombe (both from Penrhos College).
We all learn from being part of these awards, and each year I'm impressed by the delivery of these speeches and the students' abilities to convey their thoughtful, unique views of the world in such articulate ways.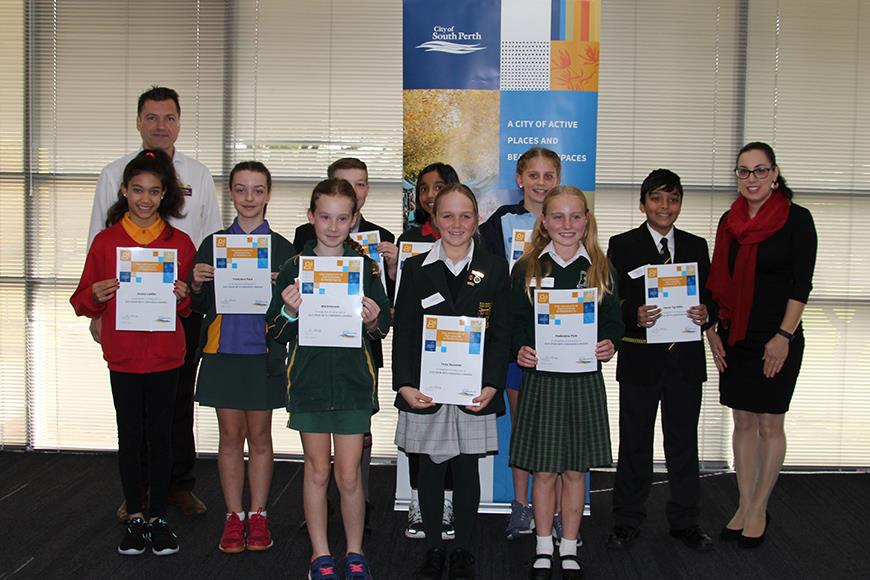 NAIDOC Week 2019
The City opened NAIDOC Week celebrations yesterday with a flag raising ceremony at the Civic Centre, acknowledging this year's theme of "Voice. Treaty. Truth. Let's work together for a shared future".
When I read the word 'treaty' the powerful song of Yothu Yindi came to mind. For me, it speaks not to the head, but to the heart with an unshakeable belief in justice. For me, it means 'give peace a chance' and the song's lyrics refer to the enduring quest for a shared future, which today's theme continues to ask for.
As part of the NAIDOC Week opening we had inspiring Aboriginal women take part, in Kerry-Ann Winmar, who conducted the Welcome to Country; and Honey Webb, who spoke with her daughters alongside her about their connection to the land and communicating proudly about their heritage.
Thanks to everyone who came along and participated. I encourage you to take part in our celebratory free events this week.
Silver Award acceptance
Another honour in June was collecting Silver in the Australasian Reporting Awards for the City's 2017-18 Annual Report.

I attended the Awards Gala Dinner to accept the award, which acknowledged excellence in reporting and encourages effective communication of business and financial information to residents and stakeholders.

Open to all organisations in the Australasian region, private and not-for-profit sectors were represented, along with government, with Woodside Petroleum Limited, Main Roads Western Australia and Guide Dogs Victoria among others that received accolades on the night.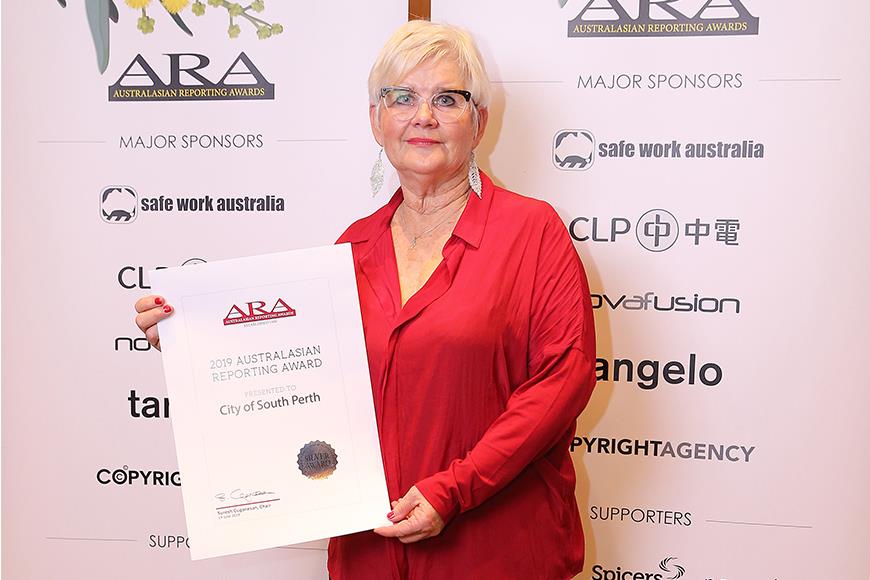 Clontarf Aboriginal College
Also in June, the City of South Perth took part in the Vocations Expo at Clontarf Aboriginal College, giving information and advice to year 11 and 12 students planning their futures.

Our project officers explained what it meant to work for the City in their respective roles, providing inspiration for the next round of graduates to consider futures in local government and infrastructure services.

The City has also implemented a program with Clontarf Aboriginal College allowing students to volunteer with the City and assist with maintenance of the surrounding foreshore.

I'd encourage young people planning their futures to really consider the rewarding careers they could have in local government.
Media contact
For media enquiries, please contact the City's Communications Officer.