Speak with Confidence Award winners announced
Congratulations to the finalists acknowledged at the 2019 Speak with Confidence Awards, held for the 23rd year, on Monday 1 July 2019.

These annual awards are open to students in years five and six from primary schools within the City of South Perth, and aim to increase the confidence of school students and focus on the clear expression of opinions and ideas.

Students chose their own topics, wrote speeches and delivered them to a panel of four judges from Toastmasters International and an audience comprising teachers, students and family members.
Again this year, a record number of 18 students participated in qualifying sessions on Monday, with six selected by the judges to present in the final that evening.
The speeches focused on a range of informative, entertaining and thought-provoking topics, from consumerism to dealing with embarrassment.
City of South Perth Mayor Sue Doherty presented the awards:

First place: Laura Bradbury – Como Primary School – "Creative Inventions"
Second place: Kate Jeffery – Penrhos College – "Consumerism: The Unsolvable Dilemma"
Third place: Tessa Secombe – Penrhos College – "The Power of Imagination"
First place winner Laura Bradbury impressed the judges with her interesting and amusing speech 'Creative Inventions'.
Laura is pictured below, centre, with (left to right) Mayor Doherty, Kate, Tessa and Master of Ceremonies, Toastmasters' Tom Bielski.
All six students in the final performed well, making the decision difficult for the judges, who also congratulated finalists Francesca Pace from Como Primary School, Liam Muller from South Perth Primary School and Karun-Taj Sidhu from Wesley College.
Mayor Doherty commended the winners and participants on their performances.

"It's a pleasure to present these awards, which nurture critical skills for young people and provide a great opportunity for students to showcase their abilities," Mayor Doherty said.

"Each year I'm impressed not only by the delivery of these speeches, but also with the students' abilities to convey their thoughtful, unique views of the world in such articulate ways.
"We all learn from being part of these awards. As listeners, hearing the students and feedback from the judges helps us as well. And I could tell the parents in the room were bubbling with pride seeing their children up there expressing themselves.
"The judges had a tough task this year – all finalists performed exceptionally well and clearly have bright futures ahead of them."

The City thanks all the primary schools involved and members of Toastmasters International who helped coordinate, present and judge this year's awards.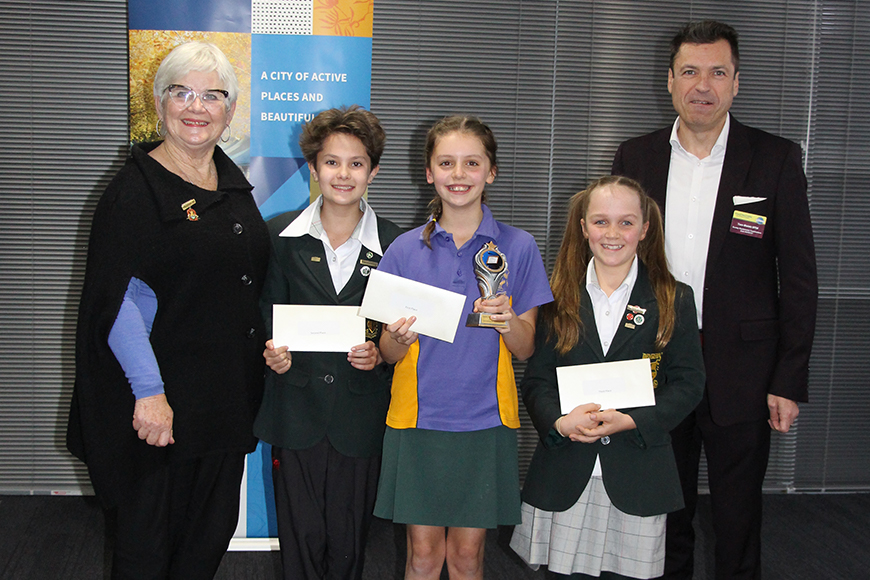 Media contact
For media enquiries, please contact the City's Communications Officer.