RAC Intellibus makes its 5,000th journey and Waste to Energy facility progresses
Hoodoo Gurus rock South Perth Sounds
Almost 20,000 people, one of the biggest crowds in the event's history attend our City's free community concert South Perth Sounds on the South Perth Foreshore on Saturday 23 February. It was an amazing event packed with free entertainment and headlined by iconic Australian rock band, the Hoodoo Gurus. It was particularly special to see so many families, children and young people enjoying the evening.

For the first time the concert featured an Auslan interpreter who was streamed on to two large screen side of stage. A great addition to what is one of the City's most popular annual events. Thank you to all who attended and helped create such an electric atmosphere. You can view all the photos from the event on the City's Flickr page.
Waste to Energy plant one step closer
In partnership with the Rivers Regional Council (RRC), Phoenix Energy and the Cities of Armadale, Gosnells, Mandurah and Canning, and the Shire of Murray, the City of South Perth has been working towards the development of Australia's first thermal Waste to Energy (WtE) facility to be located in Kwinana.

Last Friday 8 March marked a major project milestone with Premier Mark McGowan joining representatives from Avertas Energy, Macquarie Capital and the Dutch Infrastructure Fund, to turn the sod on the facility. I attended with Councillors Travis Burrow, Greg Milner and CEO Geoff Glass. Years in the making, the WtE facility is a massive project that will help the City significantly reduce its reliance on landfill disposal; making a step change towards achieving our City's zero waste objective. The WtE facility will thermally treat the waste and convert the recovered energy into steam to produce electricity; divert 400,000 tonnes of residual household, commercial and industrial waste from landfill each year and when fully operational, will export electricity to the local grid to power more than 50,000 households. The facility is expected to be open by the end of 2021.
Connect South progresses
Our City's $7.5 million major project Connect South has entered the construction phase. This exciting project is set to transform the Mends Street foreshore and precinct and create a stunning gateway to our City.

In addition to the creation of a pedestrian friendly piazza, improved seating and lighting, the City has commissioned two large sculptural canopies which are currently being constructed by DENMAC architectural solutions to provide shade and weather protection. The canopies - a frill neck lizard and numbat are being fabricated from a combination of plate and ribbed aluminium. The eye-catching designs reference the City's long-standing relationship with Perth Zoo and will be finished with geometric patterns in paint and perforations to give a transparent effect. To find out more about this exciting project visit our website, www.southperth.wa.gov.au/connectsouth.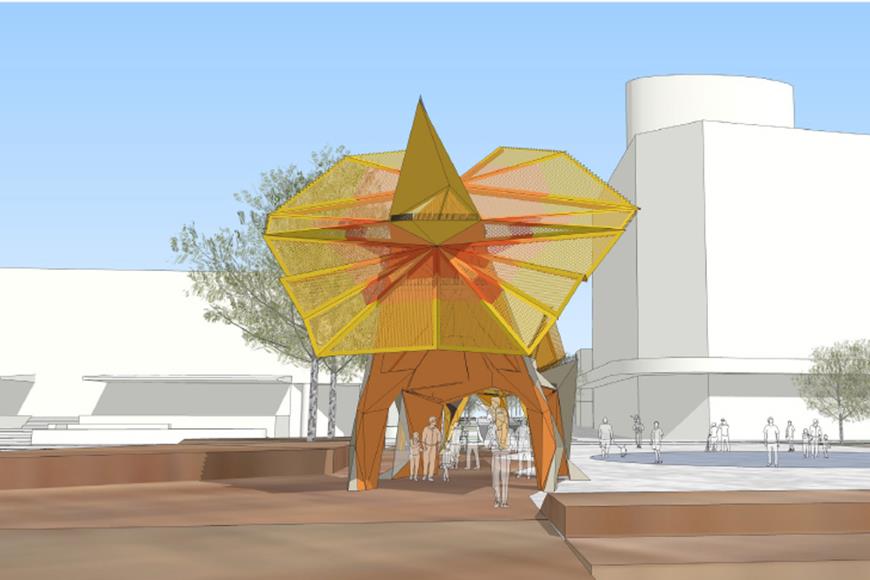 RAC Intellibus makes its 5,000th journey
The RAC Intellibus made its 5,000th trip along the South Perth Esplanade in February, a huge achievement for this ground breaking initiative undertaken by the RAC with support from the Australian and State Governments and the City of South Perth. The fully autonomous Intellibus has been operating in our City since 2016. Jurgen Lunsman (pictured with City of South Perth CEO and myself) has completed approximately 3,000 trips on the Intellibus and is one the most experiences and knowledgable chaperones. If you haven't ridden in the fully autonomous vehicle yet I encourage you to do so. This is the technology of the future. Book your ride here.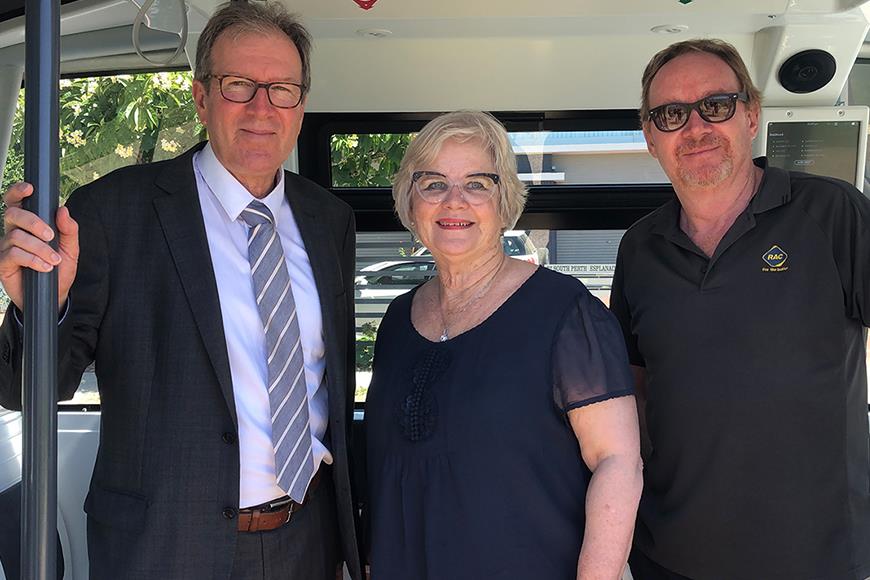 Discover South Perth
I am always surprised and delighted by the myriad goings on in our beautiful City. Whether it be family picnics by the river, weddings in Sir James Mitchell Park, community events in local halls, weekend sporting competitions, farmers markets or new businesses opening, there is a constant buzz that echoes throughout our City. You can share your discoveries with us on Facebook, Instagram and Twitter by using our #discoversouthperth hashtag.
Contact us
For more information, please contact the City.