Conversations with the Mayor
Do you have a question for your Mayor?
'Conversations with the Mayor' is a monthly event for the community to meet with City of South Perth Mayor, Sue Doherty to discuss local matters.
It's a way to get to know your Mayor, ask questions about what the Council does and talk about issues affecting you and your local community.
On the second Friday of each month, Mayor Doherty meets outside the South Perth Library from 10am to 12pm with a representative from Kensington Police Station, and on the third Friday of the month outside Manning Library from 11am-12pm.
On Wednesday 8 August, Mayor Doherty will host the first evening event from 5.30-6.30pm at South Perth Library, with all community members invited to attend. The evening events will run three times a year on the second Wednesday of each nominated month.
"It's really important to offer our community the chance to share their thoughts, ideas and concerns with me in a relaxed and informal setting," Mayor Doherty said.
"The evening events will run three times a year so people who can't make it to the morning sessions can come along after work. It's a great opportunity for me to listen to you and hear what you have to say."
Upcoming Conversations with the Mayor will take place on the following dates:
5.30pm-6.30 pm, Wednesday 8 August, inside South Perth Library
10am-12pm, Friday 10 August, outside South Perth Library
11am-12pm, Friday 17 August, outside Manning Library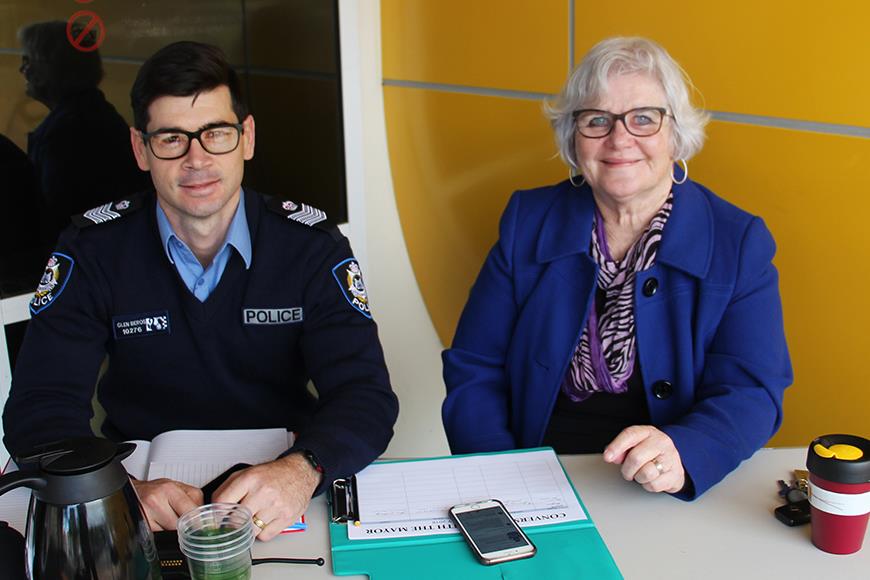 Kensington Police, Officer in Charge Senior Sergeant Glen Beros and City of South Perth Mayor, Sue Doherty outside South Perth Library.
Media contact
For media enquiries, please contact the City's Communications Officer.