Trial of driverless technology
Life never slows down in the City of South Perth. There's always so much happening, whether it be school holiday activities at George Burnett Leisure Centre or the local Libraries. Add to all this, recently we've seen the installation of fabulous new public artworks at the eagerly anticipated and soon to be completed Manning Community Hub. We just never stop.
Works at Millers Pool on the South Perth foreshore also started this month and are scheduled to be finished by the end of the year. The upgrades to the area will create a beautiful space for people to gather and enjoy the river. New picnic and seating areas, new pathways, lighting, landscaping and planting of native vegetation as well as the installation of a public artwork by Jana Wallace Braddock and Shane Mullins will transform the area. Standing over 4 metres tall, the kinetic sculpture will rotate using solar power with its silver mirrored spheres reflecting the landscape. The plan is for installation in November once the landscaping has been completed and prints by Curtin Primary School students of the samphire plant being incorporated in the concrete base of the artwork.
This month you might have noticed a small silver and yellow bus traveling up and down the South Perth Esplanade. It's Australia's first fully driverless and electric shuttle bus, the RAC Intellibus™. We are thrilled to have the Intellibus conduct its on-road trail in South Perth. A true celebration of a "first happening" in the City and one we can all celebrate. The remarkable little bus is carrying passengers between Sir James Mitchell Park and the Old Mill near the Narrows Bridge while navigating and interacting with traffic, cyclists and pedestrians. It's incredible technology which has been devised by French company NAVYA. If you want to take a ride, find out more about it here.
Speaking of buses, I encourage everyone to take advantage of the shuttle bus to and from the Perth Zoo these school holidays. It's a joint initiative between the City and Perth Zoo. To help make it easier for parents and families an area of Sir James Mitchell Park immediately adjacent to Lamb Street, off Ellam Street in South Perth has been set aside for free parking. The shuttle bus will transport visitors from there to the zoo every 20 minutes, between 10am to 5pm each day until Sunday 9 October 2016.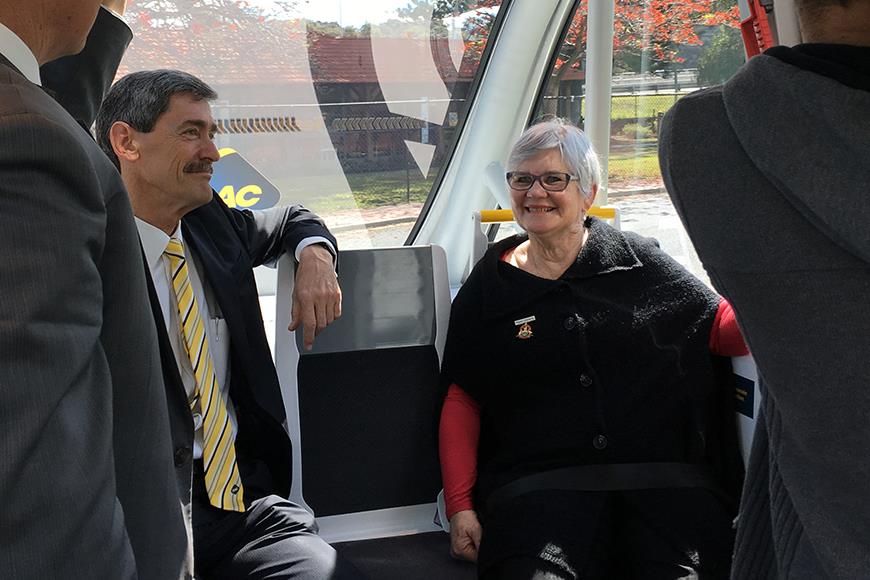 Image: RAC CEO Terry Agnew and Mayor Sue Doherty on the RAC Intellibus
Contact us
For more information, please contact the City.