City launches cat boarding at Animal Care Facility
The City of South Perth has launched a new cat boarding service for local residents and their pets.
Housed within the City's Animal Care Facility at 199 Thelma Street in Como, the service features 32 spacious, light and airy cat condominiums.
Cats will be fully catered for in a climate controlled room, with large play gym, high quality meals at breakfast and dinner, and fresh bedding, linens and kitty litter trays daily.
Carers will monitor the cats' food intake and toilet habits daily to make sure they are adapting to their new surroundings.
Single condominiums can be hired, or for cat families or those wanting extra play space, they can be converted into doubles depending on availability. The design of the condominiums ensures that the cats cannot see or be seen by the cats either side or them, but the open plan layout of the room allows your treasured pet to have full view of the room and their carer's friendly face.
"The cat boarding service is a wonderful new initiative being offered by the City's Animal Care Facility," Mayor Sue Doherty said.
"The benefits pets provide to people on a ­physical, mental and emotional level have been well documented. Research shows that having a pet in your home leads to more exercise, lower blood pressure, fewer visits to the doctor, ­better cardiovascular health and an easing of loneliness."
"Now when residents go away on holiday they will have peace of mind knowing their feline friends are safe and well looked after in the fully equipped Animal Care Facility."
Health, vaccination and minimum age requirements apply, and all cats must be microchipped, registered and desexed. Residents are asked to enquire with City staff about the suitability of the service for their cats prior to booking. Cat boarding costs $25 per cat, per day and is only available to City of South Perth residents.
The City's Animal Care Facility received a major upgrade in 2014. As a result, the facility is capable of housing over 60 animals and includes quarantine zones and isolation areas for infection.
The launch of the City's cat boarding service coincides with National Desexing Month.
The month long campaign, which runs during July each year, aims to raise awareness and reduce the numbers of animals euthanased in Australia each year.
"Australia has one of the highest rates of pet ownership in the world and it's vital that pet owners desex their cats and dogs now before the summer breeding season," Mayor Doherty said.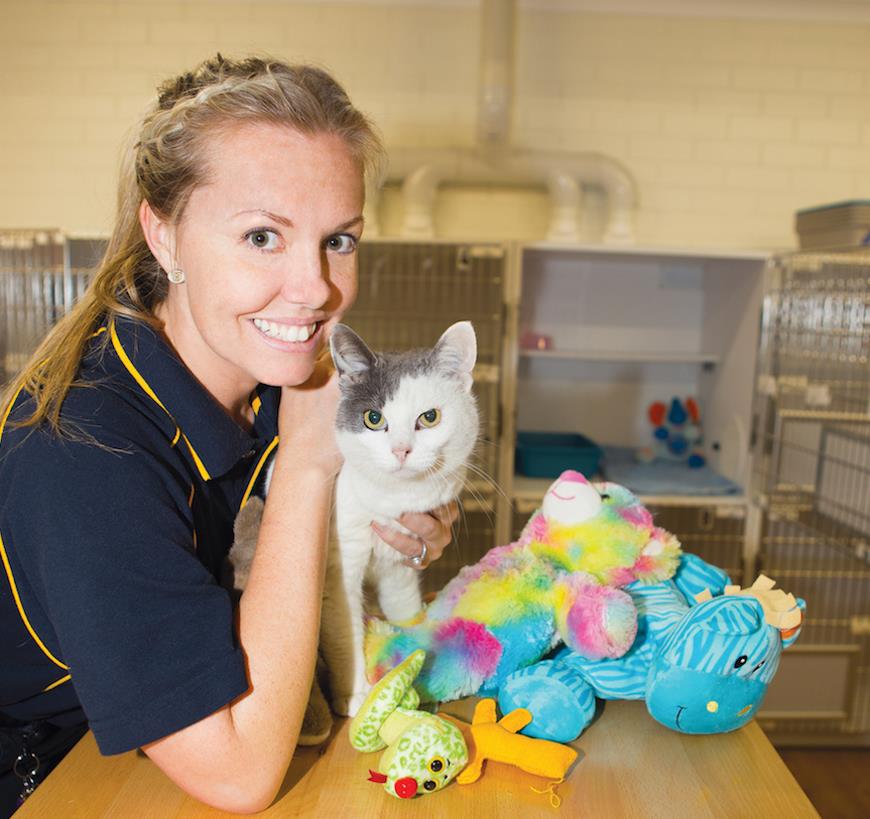 Animal Care Officer Nat Smallwood with Chloe the cat at the City's Animal Care Facility
Media contact
For media enquiries, please contact the City's Communications Officer.