South Perth Esplanade Works
In March 2023, the City commenced road works along the South Perth Esplanade – east of Mends Street to the roundabout at Car Park 11 – to upgrade the roads and footpaths and improve safety.
Construction is expected to take approximately five weeks to complete and will involve road resurfacing, civil works and upgrades to the pedestrian and cycle crossing near Car Park 11.
Additional civil works to be completed during this time include:
Replacing the paving on South Perth Esplanade outside South Shore Shopping Centre
Upgrading existing stormwater drainage
Replacing sections of damaged kerb
Replacing selected crossings (further notification will be provided to affected residents).
Temporary road closures will be implemented at various times and locations along South Perth Esplanade to facilitate the works. Car Parks 4 and 11, and on-street parking, will be closed for short periods during the construction period, although access to residential properties will be maintained.

On Monday 1 May and Tuesday 2 May, resurfacing works are scheduled to take place between 7am and 5pm. The road east of Ray Street will be closed to all traffic, except residents. This work will include resurfacing from 93 South Perth Esplanade to the Carpark 11 entrance, including the raised pedestrian crossing.
On Monday 12 June, night works will complete the final section of road resurfacing in front of Rambla on Swan and Coco's Restaurant.
The City is working with local businesses and residents to ensure the impact in the area is kept to a minimum, but please be aware there may be some impacts to surrounding businesses, residents and visitors during this period of construction.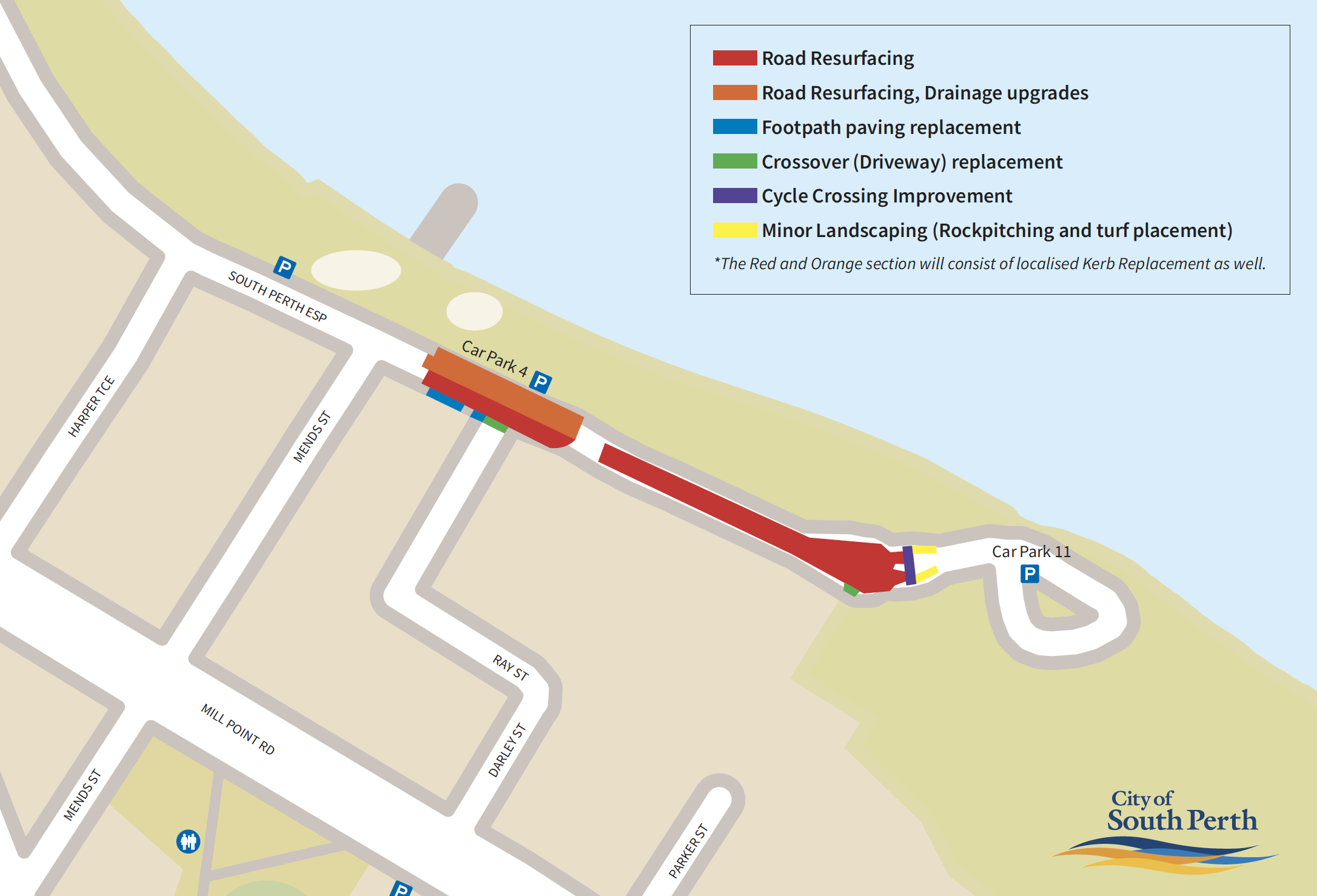 Frequently Asked Questions