Emerging artists on show
Last night the City of South Perth put local and emerging artists on show at their annual Emerging Artist Awards.
Now in its 21st year, the state-wide competition saw over 60 finalists showcasing their art and competing for part of the $15,000 prize pool.
This year's winner, Zali Morgan, was the recipient of the major $5,000 prize for her seven colour reduction linocut, Birthing Site.
Reduction linocut is a complex technique for achieving multiple colours in a single print using only one piece of linoleum.
Exhibition judges Gary Dufour, Ron Bradfield Jr., and Ross Potter had a difficult time selecting winning works however they immediately recognised Ms Morgan's exemplary print.
Ms Morgan is a Whadjuk Ballardong and Wilman Noongar woman, based in Perth.
The judges' commended her on her use of high key contrasting colours to create such an arresting image of the Old Swan Brewery, one of the most well-known buildings on the Swan River shore and a site of immense significance to the Noongar First Nations people.
The judges also observed Ms Morgan's use of the "humblest of mediums to reveal the often-obscured histories of place hiding in plain sight, often embedded in the facades of significant buildings".
"Ms. Morgan's artwork is a new, contemporary voice which extends a linocut storytelling tradition pioneered by the venerated Noongar elder, Laurel Nannup to tell of her experiences as a member of the Stolen Generation," they said.
"The Emerging Artist Award in 2023 attracted artists working across an inventive and diverse range of mediums. Many of the artists explored challenging themes ranging from the biodiversity of South Perth to issues of domestic and family violence to the new meanings that can be found hidden in the architecture of the past."
"Several artworks were the result of not only highly skilled artistic techniques but equally research into place, community, and personality. We commend all of the artists whose intelligence, effort, and skill enriches the lives of so many."
Mayor Greg Milner hosted the celebrations this year and congratulated the entrants and winners, noting the high quality of submissions this year.
"The City of South Perth is thrilled to celebrate the achievements of such talented artists and to share their work with our supportive community," he said.
"Even after all these years it's still astounding to see how many incredibly talented people we have right in our own backyard, from all age groups and walks of life."
"I'm proud to say that five of the winners and highly commended tonight are City of South Perth residents, and the popularity of the competition saw entrants coming in from as far as Denmark in the Great Southern."
The Emerging Artist Exhibition, curated by Artist/Director Ron Nyisztor, is now open to the public at the South Perth Community Hall.
Visitors can vote for their favourite piece to win the People's Choice Award or buy an artwork for their personal collection.
The exhibition will be open daily from 10am-4pm, Monday to Saturday at the South Perth Community Hall until Saturday, 14 October 2023 (closed on Sundays).

Winners of the 2023 Emerging Artist Award
City of South Perth - Open Award ($5,000)
Winner: Zali Morgan, Birthing Site
The Karalee on Preston - Local Theme Award ($1,000)
Winner: Olive Cheng, Walk to the Rosemount from South Perth
Highly commended: Jazmin Mckechnie, Resonance in Frames
Geoff Baker MLA - City of South Perth Resident Award ($1,000)
Winner: Georgie Moss, Bursting at the Seams
Highly commended: Jodie Smith, Erosion
Preston Street IGA - Secondary School Artist Award ($1,000)
Winner: Taj Garmony, 365
Highly commended: Shanae Maher, Crushed
City of South Perth - Young Artist Award ($1,000)
Winner: Loren Retta, A World Away
Highly commended: CCF- CClean Freak, A Son's Duty
City of South Perth - Works on Paper Award ($1,000)
Winner: Janice Oliver, Reli(e)ving the Ruins of my Life
Highly commended: Vidhyaasagar Vijayakumar, Resurrection of the Dying Tradition
White Frame - Painting Award ($1,000)
Winner: Leah Pirone (LAH), 7pm
Highly commended: Jiali Jiang, Fragments of Memories about the Commodity - Heineken Beer
Liquor Barons on Angelo - Sculpture/Textiles Award ($1,000)
Winner: Zoe Edwards, Protector Creature
Highly commended: Felicity Bodycoat, Ellipse Series 2
John Curtin Gallery - First Nations Artist Award ($1,000)
Winner: Taylor Gollan, Landing Zone (Coloured)
Highly commended: Anthea Corbett, Dreamtime
For more details, visit southperth.wa.gov.au/eaa.
A full image gallery can be viewed on the City's Flickr.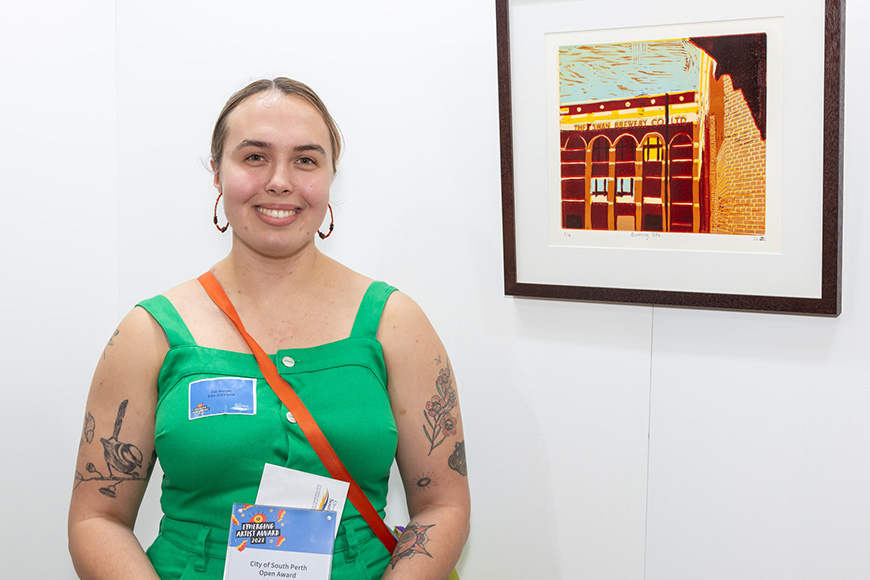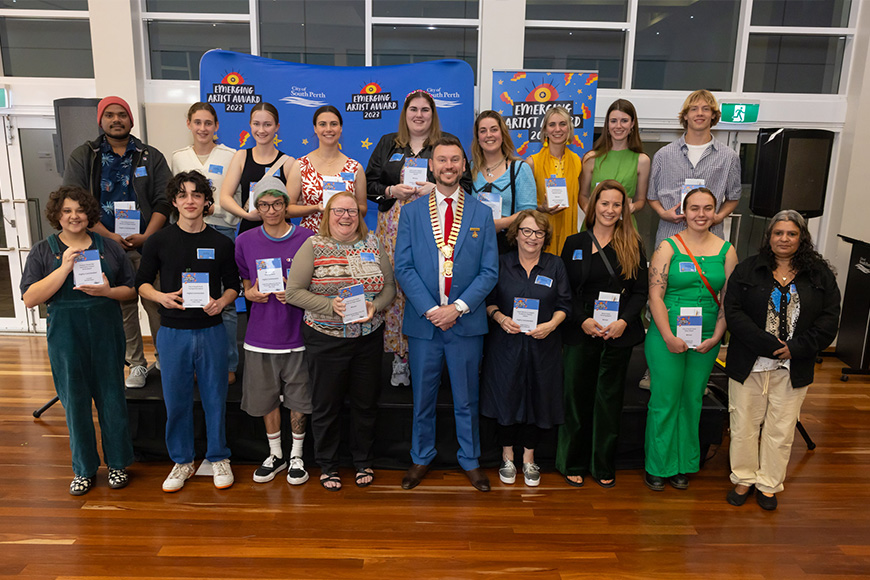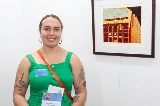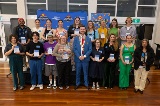 Media contact
For media enquiries, please contact the City's Communications Officer.