Black swan protection with island 'no-go zone'
A 5 metre exclusion zone has been created around the Black Swan Habitat Island (Djirda Miya) to protect local wildlife following reports that swimmers and watercraft have been approaching the island.
The award-winning project, developed by the City of South Perth and Department of Biodiversity, Conservation and Attractions (DBCA) was officially opened in September 2021 to provide a safe refuge and nesting area for the State's iconic Black Swan.
In recent months, the City has become aware of issues with people swimming nearby, approaching on vessels or going on to the island, as well as people fishing on the island.
DBCA, which manages the Swan River, was given Department of Transport approval to formally close the waters surrounding Djirda Miya to all swimmers and vessels within a 5m radius, including the area between the island and South Perth foreshore. Signage will soon be installed by DBCA to advise of the closure.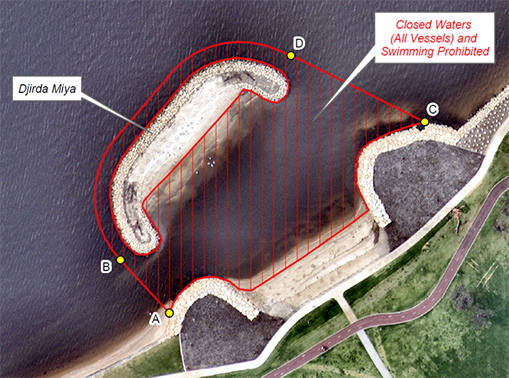 Waters around the island have been closed to further protect wildlife
The City of South Perth, which manages the foreshore reserve, is also preparing signage and other measures to help reduce the impact of land-based activities, such as cyclists travelling at speed and dogs off lead. These measures include:
Signage – the City has installed signs on the island, beach and along the cycle path to encourage people to keep their distance from swans and other birds but is also preparing permanent signage to educate visitors about the importance of birdlife.
Cyclists and scooters – a 'slow zone' is being implemented on the cycle path around the lakes to include signs, rumble strips and line marking around the lakes area where swans frequent.
Ranger patrols – the City's Rangers are regularly patrolling the area and are responsible for enforcing the local law regarding dog restrictions. In this area, dogs must be on a leash and are prohibited from entering the lakes.
On a positive note, the island is serving its purpose, as no birds have been harmed on the island. Two groups of black swans have been born on Djirda Miya and nesting seems to have moved from the lakes to the island, presumably to keep eggs and chicks out of harm's way.
Although the swans now have a safer place to raise their young, the City and DBCA will continue to investigate ways to reduce interactions between water users and land-based activities to continue protection of the Black Swan and other important species.
For more information visit our Black Swan Habitat page.