Morris Mundy Reserve update
Plans to build a sports court at Morris Mundy Reserve in Kensington have been cancelled. This decision has been made following information coming to light in relation to noise regulations and concerns experienced in other local government areas.
Upgrades were planned to take place using $90,000 grant funding secured by the City from the Australian Government's Infrastructure Investment Program Stimulus: Supporting your community program. Funding is required to be spent by December 2021.
With a recognised lack of outdoor sports courts in the City and a gap in the provision of sporting facilities for teens, the grant funding provided an opportunity to add a much needed multi-sports facility at Morris Mundy Reserve.
The City considered potential noise from basketball as part of its original design process and a number of measures were proposed to limit this impact. However, in light of the emerging issue related to noise from public outdoor basketball courts, the City commissioned independent acoustic advice to quantify the potential noise impact at Morris Mundy Reserve. The acoustic engineer advised that the location should not be used for an expanded basketball court under current State Government legislation.
Alternative options were considered, including a netball court, however this would not meet the original objective to provide multi-sports options.
To ensure the December 2021 deadline for use of the funding is met, the City will now discuss alternative appropriate uses for the grant with the funding provider.
Remedial works will now be undertaken to repair damage to the existing quarter court at Morris Mundy Reserve and no additional court will be built.
A review will be undertaken to address future uses for Morris Mundy Reserve as part of the City's Capital Works budget and in line with the Community Facilities and Recreation Plan. The community will be consulted as part of this process.
More information will be made available once the City has evaluated alternative options.
Contact us
For more information, please contact the City.
Related Articles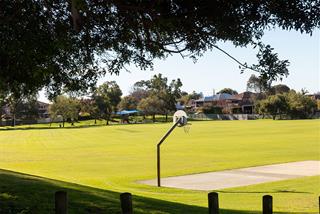 Morris Mundy Reserve makeover
Morris Mundy Reserve is about to receive a makeover with an upgrade to the existing quarter court and the construction of a new multi-purpose larger court.