Road closures for the arrival of heritage tram
Enviro Infrastructure has been engaged by the City to relocate a heritage tram from Whiteman Park into its new housing at the entrance of Windsor Park. The restored tram will provide a glimpse of life that was once commonplace in the area.

Hours of works
Delivery of the tram will take place on Sunday 27 September between 4am and 12pm.
Completing this work on a Sunday is necessary to avoid major disruption to high-volume traffic using Mill Point Road and entering onto the Kwinana Freeway.
In the unlikely event that night-works are required to position the tram into its new home, approval has been granted to work up until 5am Monday 28 September.

Traffic management
For the safety of road users and site personnel, temporary road closures and detours will be implemented on Mill Point Road (west bound) between Onslow Street and Mends Street.
Traffic will be detoured along Onslow Street, King Edward Street, Angelo Street and Labouchere Road. Please follow all signage and take care when driving in the area.
For further details please refer to the traffic management map at the bottom of this page.

Noise management
Machinery, including cranes and welding equipment will be in operation and you may notice an increase in construction noise. To minimise disturbance, an out-of-hours Noise Management Plan has been prepared and approved by the City. Every effort will be made to reduce your inconvenience.
Related Documents
Contact us
For more information, please contact the City.
Related Articles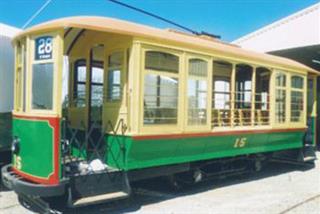 Tram B15 coming back home
The City, South Perth Historical Society and Perth Electric Tramways Society are working together to build a tram barn to house a faithfully restored B class tram engine built in 1899.