Local student receives Ted Maslen Award
2019's top Year 12 student living in the City of South Perth, Camille French, was recognised at Sunday's Australia Day Morning Ceremony receiving the Ted Maslen Award.
The prestigious $3,000 prize is paid in three annual increments of $1,000 to assist with costs associated with university studies.
The award is named after Dr Ted Maslen, who was a prize-winning student, Rhodes scholar and renowned staff member at the University of Western Australia from 1960.
Dr Maslen was founding director of UWA's crystallography centre and head of the Physics Department from 1993 until his death in 1997. Dr Maslen was involved with the City of South Perth for 22 years, and served as a Councillor for three terms.
Mayor Greg Milner was proud to present the award and recognise a high-achieving young person within the local community.
"Congratulations Camille, and all the best for your future studies," he said.
"Education is so important and I'm pleased to be able to acknowledge your success. It takes hard work and long hours to achieve a high score in Year 12 and the City hopes this prize assists you in achieving your academic and professional goals."
Perth Modern student Camille (pictured below with City of South Perth Manager Community, Culture and Recreation Patrick Quigley) received the highest overall WACE assessment and intends to study Direct Pathway Medicine through the Bachelor of Philosophy (Honours) at UWA this year, hoping to specialise in Neonatology.
"This award means a lot," Camille said.
"I went to primary school within the City of South Perth and would enter the Phillip Pendal Young Heritage Award and Young Writers Award … those little steps along the way motivated me and drove me to continue to work hard.
"This is not just recognition within my school - recognition from the place I grew up in and spent my childhood means a lot."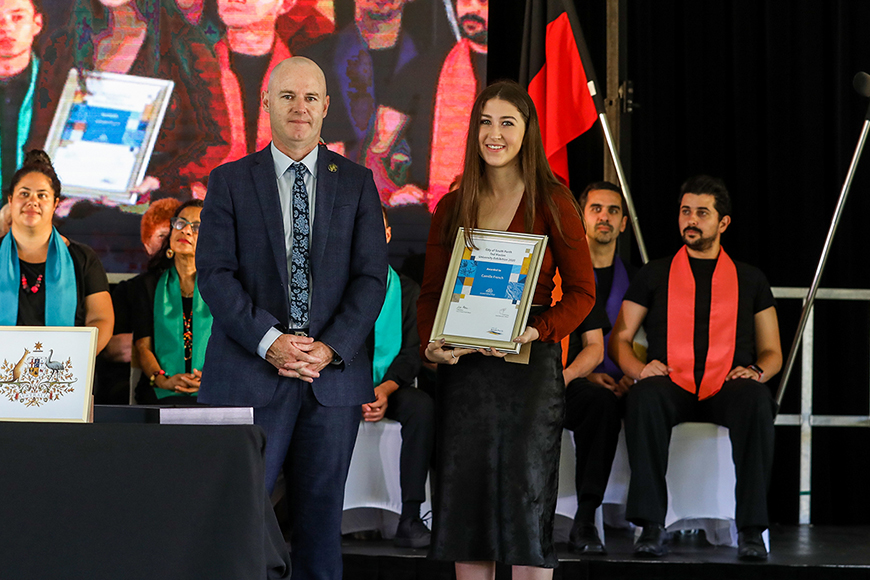 In 2017, Camille was highly commended in the Upper Secondary category of the South Perth Young Writer's Award, and in 2014 she was the winner of the major writing award, the Christobel Mattingley Bronze Medallion.
In 2019, in addition to the City's Ted Maslen award, Camille was also awarded a General Exhibition, Subject Exhibition in Modern History, Certificates of Excellence in Modern History and Literature and a Certificate of Distinction.
Media contact
For media enquiries, please contact the City's Communications Officer.