Australia Day Road Access
Please be aware that there will be road access and parking restrictions in place in South Perth on Australia Day to ensure a safe event and in line with the City's traffic management plan for Australia Day.

In the Access Restricted Area (yellow on map) roads will be closed from 12pm - 10.30pm on Sunday 26 January 2020. Residents living in this area will need to use their designated entry point as indicated on the map and show a driver's licence to gain access.
If your driver's licence does not show your current address, you will need to apply for an access permit. Utility bills will not be accepted as proof of address this year.
Residents living in the access restricted area who are expecting visitors during this time will be required to apply for an access permit for each of their visitors.
No street, verge or crossover parking will be permitted during this time for residents or their visitors. Vehicles should only park on private property (which does not include your crossover).
In the Parking Restricted Area (blue on map), parking will be restricted to ensure sufficient access for emergency vehicles. Residents or guests who ordinarily park on the road or verge (this includes your crossover) must observe the temporary parking signs.
To find out if your street is affected please refer to the map.

APPLICATIONS FOR ACCESS PERMITS CLOSE at 3pm, Friday 24 January.
For further important information about Australia Day and to apply for an access permit, visit the Australia Day page of this website.
On-Demand Transport Vehicles
Access restrictions will also apply to on-demand transport services (such as taxis, Uber, Ola, Chofer, Shebah and other vehicle charter companies) who will not be permitted to drop off or pick up riders in the Access Restricted Area between 12pm and 10.30pm.
Likewise, food delivery services (such as Domino's, Uber Eats, Menulog) will not be allowed to deliver food by car inside the area.
These restrictions will also apply to Woolworths and Coles deliveries during this time.
The City will set up a temporary pick up and drop off area inside the City's Windsor Park car park off Labouchere Road for such deliveries.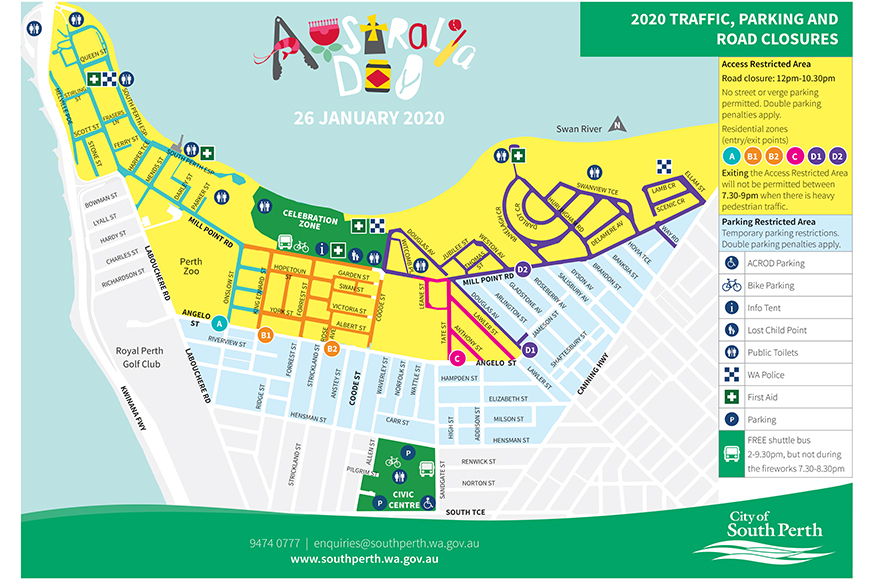 Contact us
For more information, please contact the City.