Speak with Confidence Awards announced
The City of South Perth hosted the Annual Speak with Confidence Awards on Monday 25 June. Now in their 22nd year, the awards aim to increase the confidence and poise of school students and focus on how they can clearly express their opinions and ideas. These awards are open to students in years five and six from the primary schools within the City.
The students choose their topics, write their speeches and then deliver to a panel of three judges, with an audience comprising teachers, students and family members.
This year the highest number of students participated, with 18 students in the qualifying sessions, six students were selected by the panel of judges to present their speech in the finals held later that evening.
The speeches presented involved a wide range of interesting, entertaining and informative topics, from the 'Environment' to 'How to Annoy Your Parents'.
The judges were faced with an extremely difficult decision as the six finalists performed exceptionally well in front of a crowd of family members, teachers and students.
The City of South Perth's Mayor Sue Doherty announced the winners and presented the awards:
First place – Mollie Edgar - Penrhos College - My Mum's a Redhead
Second place – Isabella Zeeb - Manning Primary School - Being a Twin
Third place – Ruby Breuer – St Columba's Primary School – Mobile Phones
First place winner Mollie Edgar, from Penrhos College, impressed the judges with her interesting and informative speech titled My Mum's a Redhead.
The other finalists were Madhavi Shrivastava from Como Primary School, Liam Muller from South Perth Primary School and Sienna Bonomini from St Columba's Primary School who were congratulated for making the finals, a great achievement recognised by the City.
"The Speak with Confidence Awards provides an excellent opportunity for young people to learn, develop and showcase their skills in what can be a daunting area of public speaking," Mayor Sue Doherty said.
"Each year the quality of speeches delivered at the awards reflect the hard work and dedication by both students and teachers, and this year was no exception with outstanding presentations."
"The children who competed in this year's competition are a great credit to themselves, their families, schools and the City of South Perth. Their effort and preparation were obvious and the performances were exceptional.
"This event really highlights the talent within our local schools, as well as the City's support to the education sector."
The City would like to thank all of the primary schools involved and the volunteers from Toastmasters International who helped coordinate, present and judge this year's awards.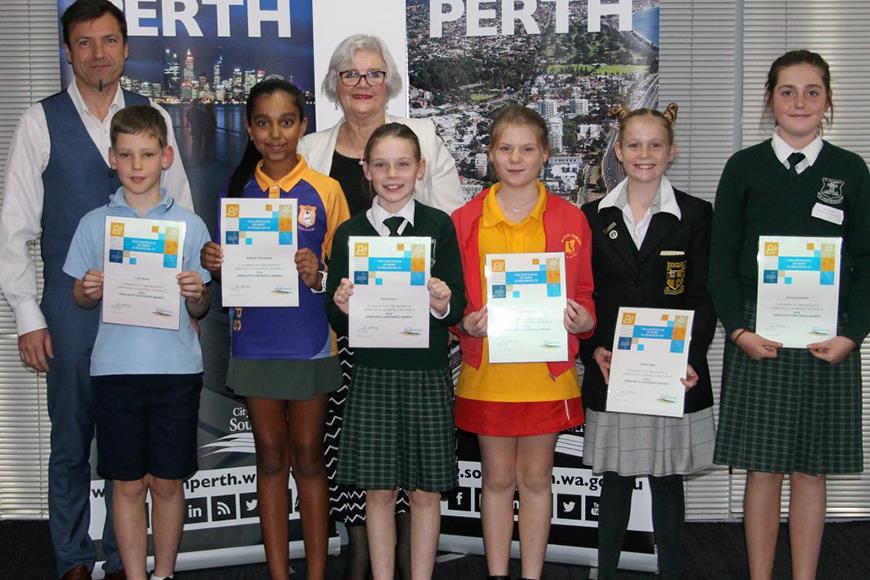 Speak with Confidence Awards finalists pictured with one of the judges and Mayor Sue Doherty.
Media contact
For media enquiries, please contact the City's Communications Officer.