Hands up for Connect South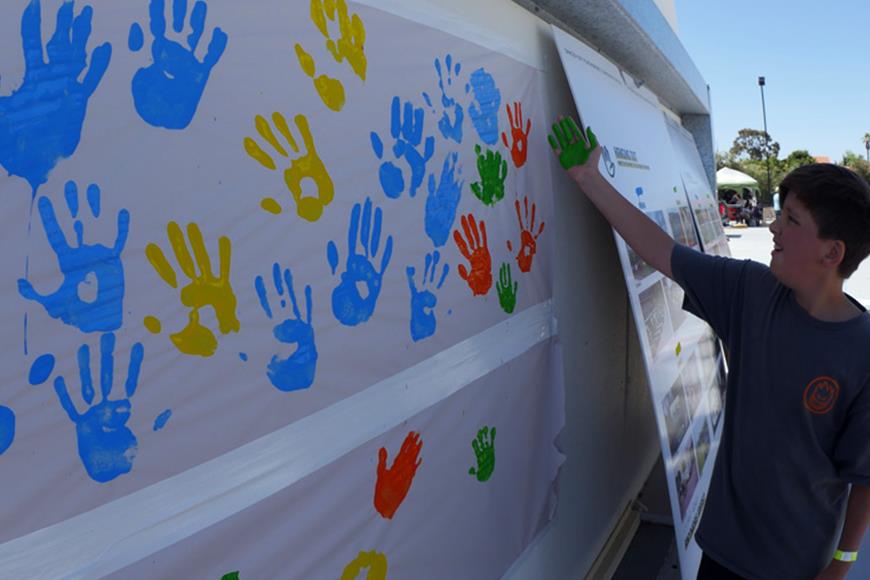 Do you have a great idea to improve and activate the Connect South area? The City of South Perth is seeking community and stakeholder input to help inform the place design concept plan as part of the City's $7.5 million major project Connect South.
Connect South has grown from the South Perth Foreshore Strategy and Management Plan, which identifies Node 1: Mends Street as a key area for revitalisation. The project aims to enhance and invigorate the Mends Street precinct and foreshore area by creating a positive environment, both economically and socially.
The first stage of the Connect South project focuses on Mends Street between Mill Point Road and the foreshore along with parts of the South Perth Esplanade. It will deliver a piazza on the foreshore as well as streetscape and amenity improvements, landscaping upgrades and place activation activities.
On Saturday 22 and 29 July, community members are invited to the corner of Mends Street and South Perth Esplanade to share their ideas. By placing their handprints and writing on the Hands up for Connect South car, members of the public can share their ideas and priorities for the area. Alternatively, if you can't come along, you can complete the survey on the City's online engagement portal Your Say South Perth.
The Connect South area and surrounding foreshore is a major arrival point for many visitors to South Perth linking the ferry terminal to restaurants, shops, cafes, Perth Zoo and beyond.
The vision for Node 1: Mends Street is to create:
An active piazza and promenade
An arrival place with day/night activities
A gateway for the Mends Street Precinct with connecting stories and interpretation of heritage, zoo and the river
An integrated transport node utilising the river to connect with the Mends Street Precinct and surrounding area
Hands up for Connect South
The Hands up for Connect South car will be located at the corner of Mends Street and South Perth Esplanade in South Perth on:
10am-2pm Saturday 22 July
10am-2pm Saturday 29 July
Visit Your Say South Perth to complete the survey. Survey closes 5pm 28 August 2017.
In October 2016 the City successfully secured $2.5 million in Federal funding for Connect South from the National Stronger Regions Fund (NSRF) to match the City's contribution of $5million over two financial years. This will greatly assist the City in the construction of a Piazza on the foreshore in the vicinity of the Mends Street jetty as well as upgrading the streetscape and amenity of Mends Street itself.
Media contact
For media enquiries, please contact the City's Communications Officer.