Goss Avenue Reserve planting day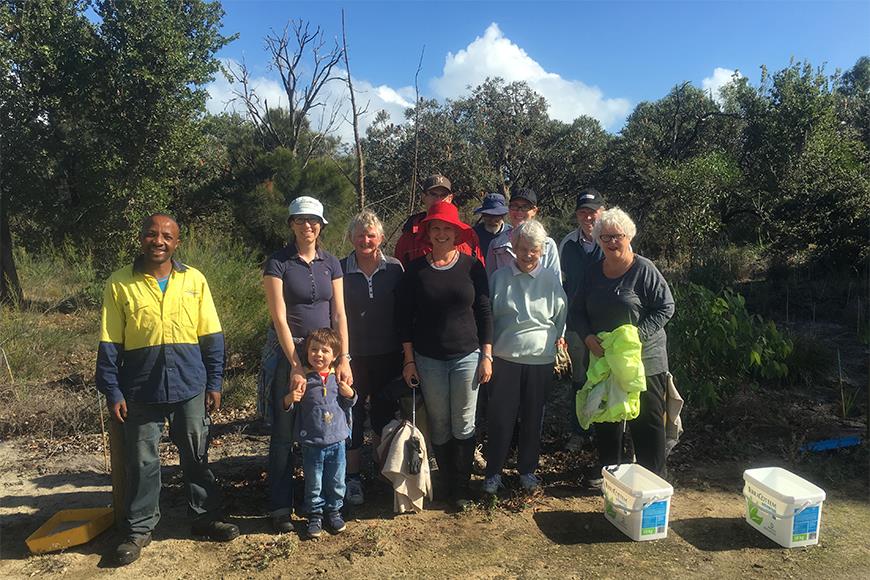 Rain did not dampen the spirits of an enthusiastic group of environmental volunteers who planted 500 seedlings grown in the City of South Perth's nursery in Goss Avenue Reserve on Sunday 21 May 2017.
Led by the City's Natural Resource Management Officer, the Friends of Goss Avenue Bushland community group have helped the City to care for the reserve and restore the bushland which has experienced weed invasion, illegal dumping of rubbish and dieback.
Located in Manning, the reserve's bushland is a Banksia Woodland, which has been listed as a Threatened Ecological Community. Currently, Banksia are in flower, as well as Stylidium (trigger flowers) and Leucopogon (beard heath).
Conserving and restoring urban bushland such as Goss Avenue is critical, as these areas provide habitat for birds, reduce the urban heat island effect and allow local residents to spend time in nature.
The planting day was the first for the group, who formed in August 2016. To date, City staff and the group have been clearing weeds from bushland, and have clocked-up around 130 hours of volunteering time. The group meets monthly, and after a couple of hours work sit with a warm drink and enjoy the surroundings.
"Volunteering is an excellent way to act, belong, commit, to keep mentally healthy, and undertaking restoration activities is a great physical activity. Combined with the benefits of spending time in nature, volunteering in your local friends group really is a win-win for people and the environment," a Friends of Goss Avenue Bushland volunteer and City of South Perth resident said.
If you are interested in volunteering with the group please contact the City on the details below.
Contact us
For more information, please contact the City.