The City of South Perth provides one hard waste and two green waste verge side collections per year. Dates are advertised in local newspapers and a brochure is delivered to residents approximately 10 days before collection starts in their area.
Items for the green and hard waste verge collection must be placed neatly on the verge by 7am on the scheduled start date for your area (including public holidays). Waste should be put out no earlier than one week before the collection commencement date.
For safety and to avoid damage to properties, please do not place collections next to trees, power poles, water meters, reticulation, walls, street signs or any other object. Please do not obstruct the footpath or driveway, your normal bin services or the line of sight of pedestrians and road users.
The City does not collect from vacant lots, commercial properties, rights of way, reserves or parks.
If you miss the collection, you can dispose of your waste at the City's Collier Park Waste Transfer Station located on Thelma Street, Como.
Hard Waste Collection
To ensure that the maximum amount of hard waste is recycled, different trucks are allocated to specific items. Please assist us by placing hard rubbish on your own verge and into separate piles:
Metals
Whitegoods
Mattresses
E-Waste
General waste.
Only four cubic metres of waste will be collected from each residence. Waste left behind after the collection is your responsibility and must be removed from the verge within seven days, or $200-$500 litter infringements will be issued.

Spring Hard Waste Collection
19 September to 11 November 2016
19 September 2016
STAGE 1 - Como Beach
26 September 2016
STAGE 2a - Manning, Salter Point
3 October 2016
STAGE 2b - Waterford
10 October 2016
STAGE 3 - Como, Manning, Karawara
17 October 2016
STAGE 4a - Como
24 October 2016
STAGE 4b - Kensington
31 October 2016
STAGE 5 - South Perth
7 November 2016
STAGE 6 - South Perth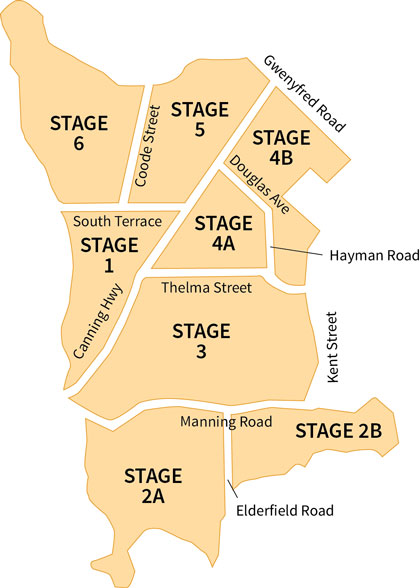 Green Waste Collection
The Spring Green Waste Collection has now finished. Autumn collection dates will be posted here as soon as they are available.
The City will collect:
Uncontaminated green/garden waste
Tree prunings/branches with a maximum diameter of 1.5m
Maximum three cubic metres per premise.
The City will not collect:
Lawn clippings and leaves. These may be placed in your regular bin and will be collected along with your weekly domestic rubbish collection

General junk, building or household waste

Tree trunks and stumps larger than 150mm in diameter or 1.5m in length

Dug out lawn

Green waste that is contaminated by household rubbish.
If the green waste you set out for collection does not comply, it will not be collected.
Green waste left on the verge can be unsightly and hazardous. For this reason, green waste which isn't collected because it has not met collection guidelines or because of late placement, must be removed within seven days or you may be fined.