Canning Bridge to Curtin University Bike Link: creating safer active streets for our community
The City of South Perth is working with the Department of Transport (DoT) to create safer streets for people on bikes and people walking in the area between Canning Bridge and Curtin University.
Identified as a high priority in the City's Joint Bike Plan (developed with the Town of Victoria Park in 2018), the Canning Bridge to Curtin University Bike Link will provide what are known as safe active streets along Godwin Avenue, Pether Road and Davilak Crescent in Manning, to give priority to cyclists and pedestrians.
The project will also see the construction of a shared path for cyclists and pedestrians parallel to Manning Road, from Pether Road to Gillon Street. This shared path will join the existing on-road bike lanes on Walanna Drive in Karawara, which connects to Jackson Road (via Waterford Plaza), where there is also a link to Curtin University.
The addition of these safe active streets and shared path connections will complete the Canning Bridge to Curtin University Bike Link. They complement existing infrastructure providing links to Canning Bridge Station, local schools, the George Burnett Leisure Centre, Farmers Market on Manning, Waterford Plaza and Curtin University.
The City asked for feedback from the community and stakeholders on the proposed safe active streets and shared path designs in March 2022, receiving comments from around 120 people through feedback forms and drop in sessions with project team members.
In response to the feedback and a peer review by an expert panel, the following changes were made to the initial designs, which have now been finalised:
To reduce speed along Davilak Crescent, as well as to discourage it from being used as a rat run, a speed hump will be installed east of Ley Street, along with a single lane slow point between Ley Street and Godwin Avenue, and another between Manning Road and Pether Road.

A raised intersection will be included at the intersection of Davilak Crescent and Pether Road.
Speed cushions will be installed at the entrance to the roundabouts on Ley Street and Davilak Crescent/Street, and Canavan Crescent and Godwin Avenue/Pether Road to slow down approaching vehicles.
A footpath will be installed on the eastern side of Goss Avenue between Pether Road and Curtin Primary School, to improve safety for children and other people walking.
The shared path parallel to Manning Road will be realigned so it comes to an end at Walanna Drive, where people riding can then transition to the existing bike lanes on Walanna Drive. From there, bike riders can enter the Waterford Plaza shopping centre car park or continue on to Curtin University via the Walanna Drive underpass and the Kent Street shared path.
In addition, a raised intersection will be installed at the Henley Street bend to provide a safer crossing between Godwin Avenue and the path linking to Murray Street and Jackson Road.
Jointly funded by the DoT and the City, construction of the Canning Bridge to Curtin University Bike Link will take place in the 2023/24 financial year.
Driveways and verges will not be affected by the project, and no existing street trees will be removed. Street parking will not be affected other than on Davilak Crescent where the slow points are installed. Parking will still be available on the verge of the reserve on Davilak Crescent.
City of South Perth Mayor Greg Milner said the City was committed to creating safer streets for the local community.
"The Canning Bridge to Curtin University Bike Link is an important project that will provide a much safer and more enjoyable ride or walk for children, students and other commuters in the City of South Perth, as well as those from neighbouring local government districts.
"This project will provide better traffic flow and more choices for people, while catering for all ages and abilities and providing links to local schools, George Burnett Leisure Centre, the Farmers Market on Manning, Waterford Plaza, as well as Canning Bridge Station and Curtin University."
What are safe active streets?
Safe Active Streets is a DoT program to make streets, friendlier and safer for all users, including people in cars and people riding bikes and walking. A safe active street is a bike route on a quiet local street, where speeds have been reduced to 30 km/h to allow for a safer shared street space. With lower traffic speeds, the street becomes much safer for people of all ages and abilities who are riding a bike or walking, as well as for people driving. Safe active streets are designed to create safe, comfortable and welcoming environments for everyone using the space.
The City has secured $475,000 in grant funding from the Department on Transport towards the construction of the safe active streets and shared path in the 2023/2024 financial year.
To find our more visit yoursay.southperth.wa.gov.au/bikelink.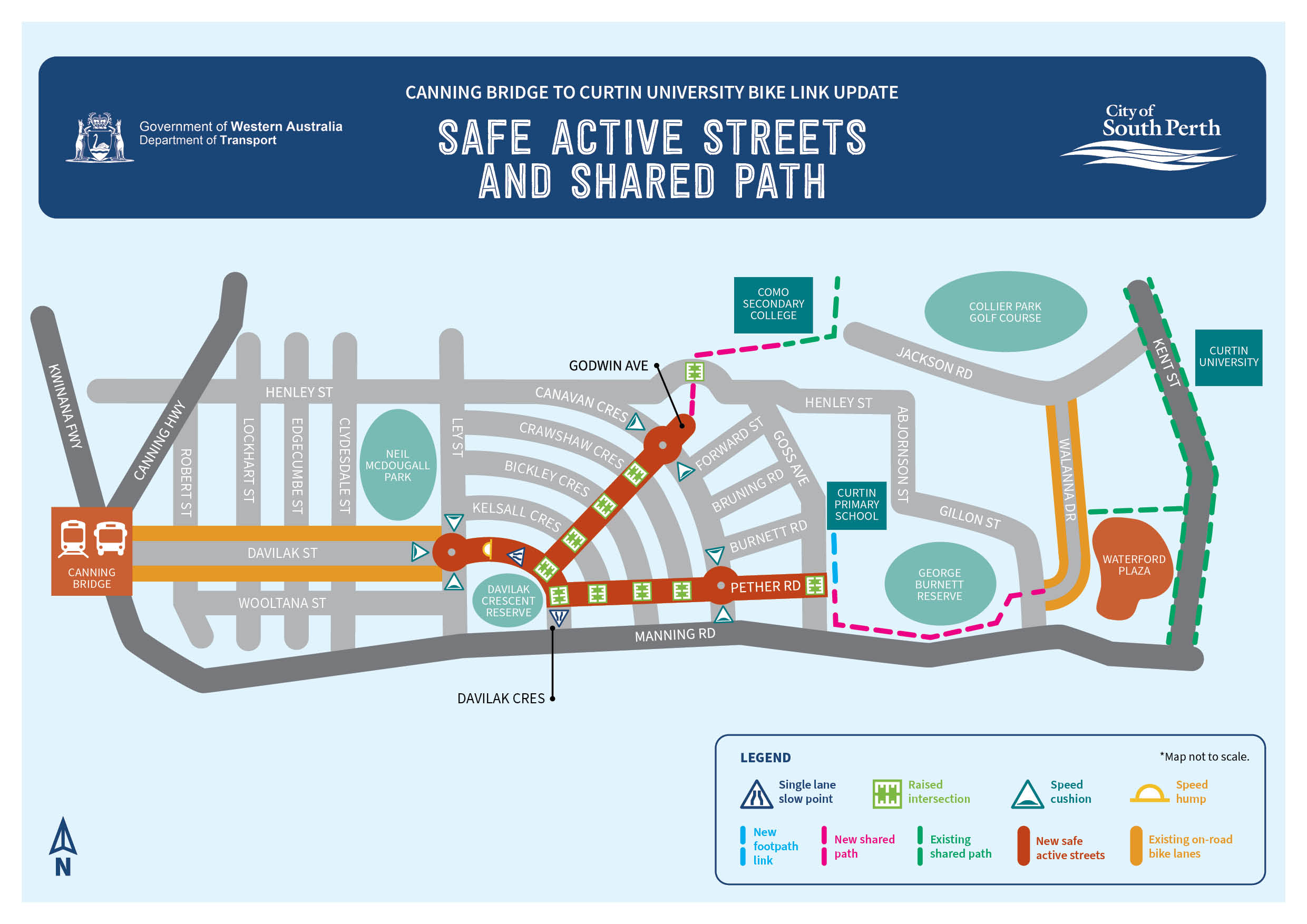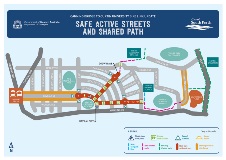 Contact us
For more information, please contact the City.