Planning: Your questions answered
Over the next 10-20 years the Greater Perth region is projected to grow towards a population of 3.5 million people. For us in the City of South Perth, that's a forecast population increase of more than 20% by 2031.
Planning for our share of population growth is about effectively managing the way land is allocated between competing and sometimes conflicting uses to ensure our City continues to be an attractive place to live, work and visit.
We are often asked about how the planning process works and answer some frequently asked questions here.
Who approves development applications in the City of South Perth?
While the City is responsible for planning our local community, we are not the final decision maker on every planning application, particularly in the case of large developments.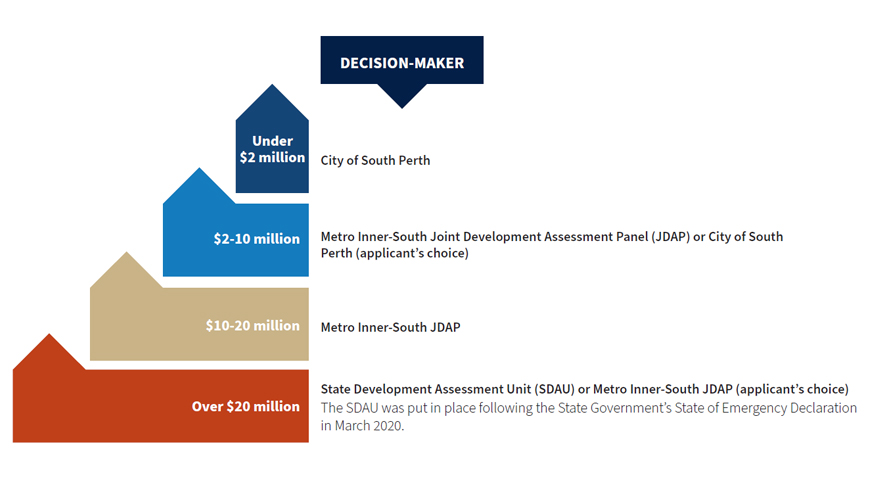 What is the City's role?
Local governments are responsible for planning their local communities. All local governments in Western Australia are required to have a Local Planning Strategy and a Local Planning Scheme. The strategy is the community's vision for how we will manage growth and the scheme sets out the planning rules to ensure we meet that vision.
Decisions about how land is used in the City of South Perth are based on what our local planning scheme allows. All local government planning schemes and policies are required to be consistent with State Government planning objectives and requirements. A proposed scheme is submitted to the WAPC who can make changes before approval.
We are in the process of moving to a new Local Planning Scheme at the City of South Perth, Local Planning Scheme 7, which is now being assessed by the WAPC and State Government ahead of extensive consultation with our community. The scheme will be considered by Council before final approval by the Minister.
What is the Joint Development Assessment Panel?
The Metro Inner-South Joint Development Assessment Panel (JDAP) is an independent decision-making body responsible for determining development applications with an estimated value of $10 million or more. The JDAP consists of five members appointed by the Minister for Planning, three specialist members and two City of South Perth Councillors.
What is the State Government's role?
Minister for Planning
The Minister has overall responsibility for planning, lands, transport and roads. The Minister is also responsible for the production of State Planning Policies that guide development and land use in association with local and regional planning strategies and schemes.
Western Australian Planning Commission
The WAPC is a statutory authority with state wide responsibilities for urban, rural and regional land use planning and land development matters. The WAPC responds to the strategic direction of government and is responsible for the strategic planning of the State. Local government planning schemes are approved by the WAPC.
Department of Planning, Lands and Heritage
The Department of Planning, Lands and Heritage (DPLH) provides professional and technical expertise, administrative services and resources to advise the WAPC and implement its decisions. The DPLH is responsible for planning and managing land and heritage in Western Australia, focusing on:
Aboriginal heritage and lands management;
Crown land administration;
Historic heritage conservation services;
Integrated land and infrastructure policy development; and
Land use planning and policy development.