City partners with My Community Directory
Are you running a local community organisation, support service, club or group? Want to be found by more people online and to promote your events and services?
The City of South Perth has partnered with My Community Directory - a new website providing access to local health and community information.
Local not-for-profit organisations, community groups, clubs and associations have been invited via email to
register their account
on the My Community Directory website.
The service is free to use and is designed to assist community groups to:
List their services
Be found by more people online
Advertise for volunteers
Promote upcoming events.
Why should you be a part of it?
Make sure that people can find you online
Enable the community to connect to local services
Increase access to information about your club or group
Increase your searchability and online engagement
Control your information and listing.
How to list your service/organisation
Visit City of South Perth Community Directory to search if you are already listed
Check your listing and ensure information is correct
If you are not listed, register and create your listing.
To use this free service on your mobile, download the 'Access my Community' app from the app store or by texting 'SouthPerth' to 0488 884 151 to receive a download link.
Who controls the information in your listing?
The listing owner (your community organisation) decides how much information including contact details and personal information, is available online.

My Community Directory has been developed as an initiative of the Community Information Support Services - a Not-for-Profit social enterprise established to support the health and well-being of Australians through the use of community information. Community Information Support Services is the administrator and provider for Western Australia.
For more information about using or registering your organisation on the My Community Directory, please contact:

My Community Directory
1300 762 515
PO BOX 222, Fortitude Valley QLD 4006
Contact us
Search the City of South Perth Community Directory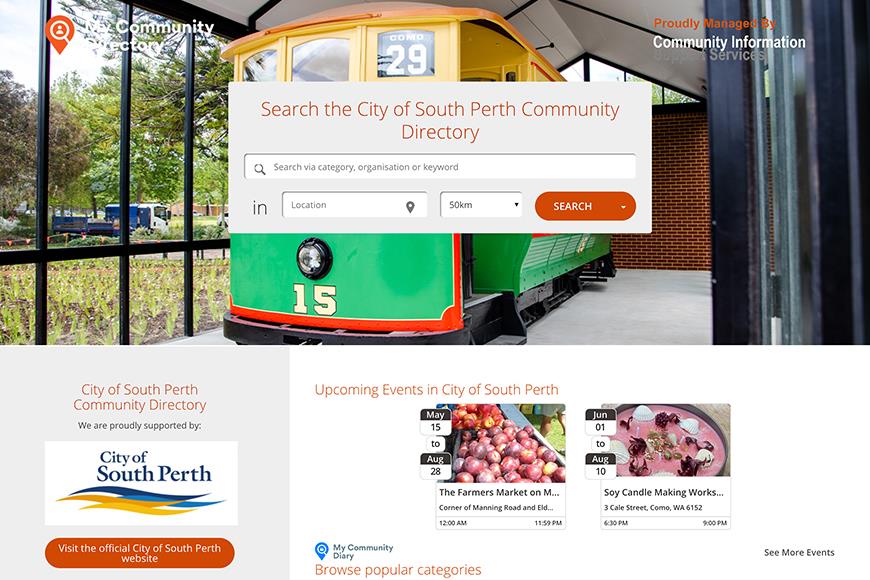 Contact us
For more information, please contact the City.