Solar bench helps charge phones with clean energy
Synergy has partnered with CleanAir Energy and the City of South Perth to bring a Steora smart bench to the South Perth Foreshore near the Boatshed Café in Sir James Mitchell Park.

The solar energy-charged street bench allows locals and visitors to charge their mobile phones whilst down at the river, for free and using clean energy.

Synergy's CEO Jason Waters said the partnership is just one of the ways Synergy is showcasing new and emerging technology, especially in relation to renewable energy.

"Synergy is excited to partner with CleanAir Energy and the City of South Perth to provide future technologies that help local residents to use energy intelligently," Mr Waters said.

"Perth receives around 300 days of sunshine each year, so it's fantastic to explore additional ways to harness energy, such as being able to use the sun to charge your phone while you're out and about."

City of South Perth Mayor Sue Doherty said the City was excited to be able to offer the community cutting edge solar technology and a convenient solution for mobile phone charging on the go, just in time for the popular Australia Day celebrations in the area.

"Sustainable development is a priority for the City. We are committed to sustainable living and demonstrating how we as a City and Council can lead by example, " Mayor Doherty said.

"These benches are a great addition to the foreshore which I know locals and visitors will appreciate, and is just one of the sustainability initiatives being introduced across the South Perth area."

The smart benches are equipped with wireless device chargers and smart USB connectors that are entirely powered by integrated solar panels.

This autonomy means the benches can be transported to any outdoor location without need for special infrastructure, machinery or cables.

The installation is part of Synergy's plans to bring innovative solar technology to Western Australian communities.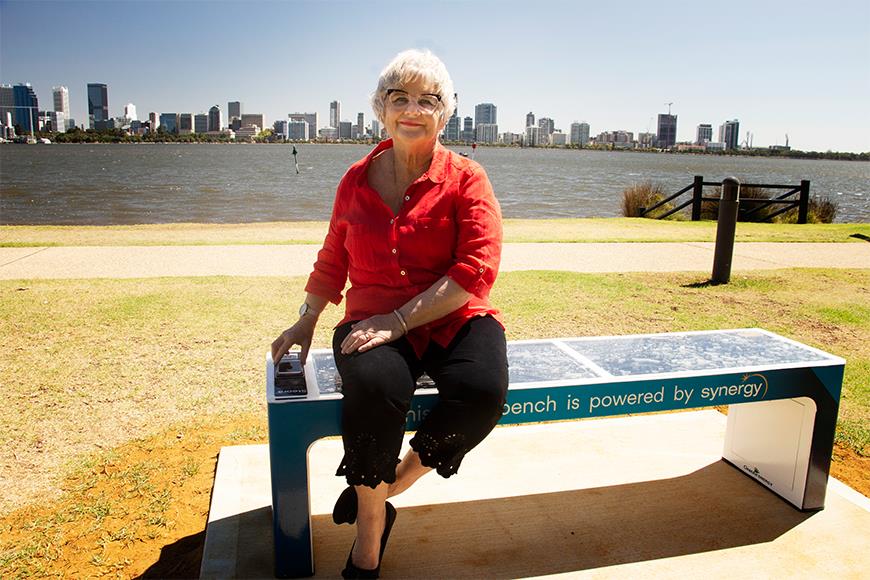 Media contact
For media enquiries, please contact the City's Communications Officer.