City of South Perth schools earn first place in Young Re-inventor of the Year
Jewellery made from soft drink cans, a bottle top mosaic and a shower filtering system are just some of the winning entries into Young Re-inventor of the Year 2018.
Two schools in the City of South Perth won sustainability prize packs, Como Secondary College and Wesley College earned equal first place in the high school category.
Young people from primary and high schools participated across Perth.
"Our local community are committed to reducing waste and it's great to see young people leading the way and finding creative ways to reduce the amount of waste going into our landfill," Deputy Mayor Glenn Cridland said.
"I commend both schools for their involvement in this important sustainability initiative and the very creative students who came up with such innovative solutions."
Cr Cridland attended a special assembly at Wesley College on Tuesday 4 December to present the certificates to the winning Wesley College students.
Young Re-inventor of the Year challenges young people to re-think waste. In 2018, Young Re-inventor of the Year adopted a Water theme and asked young people to re-invent rubbish into something that helps keep our waterways clean or conserves water. The annual re-use program attracted 138 entries created by more than 400 young people from across Western Australia.
Wesley College produced 'Re-lope', a reusable envelope made from compressed plastic bags. The students cited awareness of the danger the plastic bags pose to sea life as the reason that chose to 're-invent' it. By using plastic bags in their product, students hope that the number of plastic bags that end up in the environment will be reduced.
Students from Como Secondary College repurposed ring pulls from soft drink cans, bottle caps and plastic straws into earrings, bracelets and necklaces. The business-savvy students hope to sell the jewellery with the proceeds passed on to the Sea Life Trust to protect marine areas.
The City of South Perth is a proud partner of Switch your thinking, a local government sustainability initiative inspiring sustainable action in schools, businesses and the community.
Young Re-inventor of the Year is funded through the Waste Avoidance and Resource Recovery Account administered by the Waste Authority.
See the full list of the winners and their inventions at switchyourthinking.com.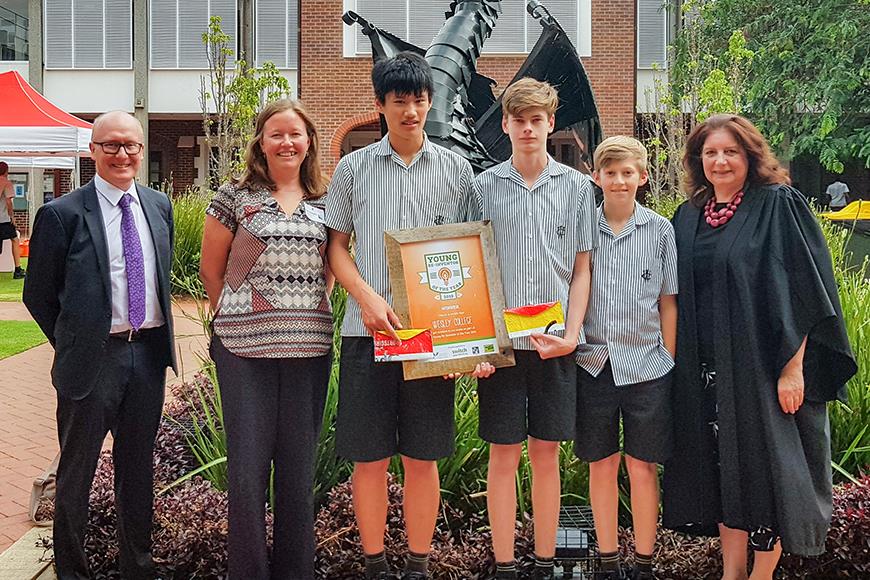 Pictured: Deputy Mayor Glenn Cridland, Switch Your Thinking's Kerry Mazzotti, Wesley College award winning Year 9 students Christopher Jongue, Travis Godfrey and Oliver Welland, and Wesley College teacher Kathy Krajcar.
Media contact
For media enquiries, please contact the City's Communications Officer.