Bodies of Water exhibited at Manning Community Centre
A new exhibition titled Bodies of Water by Campbell Whyte has opened at Manning Community Centre and will be on display to the community until 27 January 2019.
In his comic works, Campbell tries to make visible the way thoughts flow together, past, present, future. The physical world around us and the internal world blurring and connecting. Bodies of Water is a work that tries to connect the artist's life on this land with the life in the land.
Campbell Whyte was born in Perth and makes comics that explore the play between the fantastical, the historical and the autobiographical. His Eisnernominated graphic novel, Home Time, took almost ten years to make and is a wild adventure through a Perth of the imagination. When not making comics he runs the monthly Comics Maker Network and teaches comics making at the children's art school Milktooth.
A limited edition of the comic Bodies of Water has been created for this exhibition and can be viewed at South Perth and Manning libraries.
Bodies of Water by Campbell Whyte is on display at the Manning Community Centre exhibition boxes from 10 September 2018 - 27 January 2019.
Manning Community Centre, 2 Conochie Cres, Manning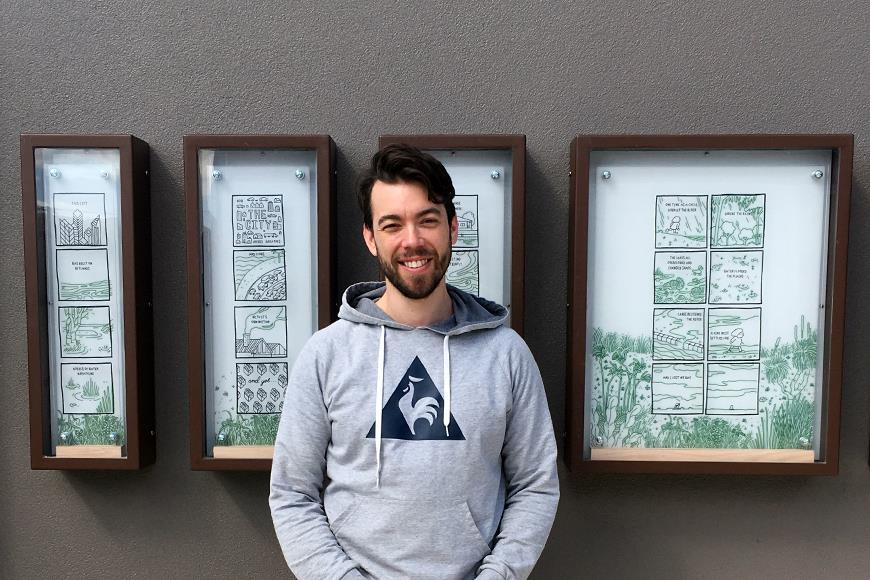 Bodies of Water by comic illustrator and author, Campbell Whyte
Contact us
For more information, please contact the City.