Banners in the Terrace celebrate Local Government Week
Banners in the Terrace is an annual competition that takes place during the West Australian Local Government Association (WALGA) Convention.
In 2018 over 60 banners from local governments from around the state will be on display along St Georges Terrace and Adelaide Terrace from Sunday 22 July to Saturday 4 August 2018 as a part of the largest community arts project in the State.
This year the City of South Perth invited South Perth Learning Centre to participate in the competition. The Centre had to design a banner that they thought best represented the City of South Perth whilst incorporating this year's theme: 'Ready & Relevant'.
Members of South Perth Learning Centre together with artist Mikaela Miller held a very successful brainstorming session to develop a concept for the banner. From this came the idea of using the sails from the iconic Old Mill as a compositional device. Images of urban development and environmental conservation were juxtaposed.
The balance and relationship between these two areas of growth within South Perth is integral to South Perth's unique identity; and was decided in the brainstorm session to be part of what makes the City ready for the future and relevant to the world of today.
The native plants and animals that are featured reference the many parks and green spaces in the City of South Perth, and depict specific conservation efforts that the Learning Centre Members' had witnessed in their community, such as the protection of swan nesting areas. The final design was endorsed by the City and then transferred onto the banner by the students in a number of painting workshops with Mikaela.
The City's banner will be on display from 29 July to 4 August.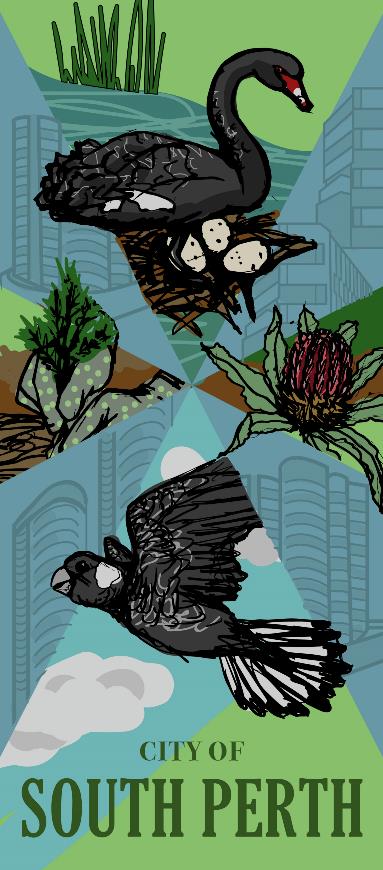 Media contact
For media enquiries, please contact the City's Communications Officer.