Green waste disposal a focus in fruit fly Quarantine Area
Media release: Department of Primary Industries and Regional Development
Residents and gardening contractors in the Queensland fruit fly (Qfly) Quarantine Area are being encouraged to work together to ensure the correct disposal of green waste to help stop the spread of the destructive pest.
A Quarantine Area applying to all or parts of Como, Karawara, South Perth, Kensington and Bentley, as well as Curtin University, came into effect in early May following the detection of a number of Qfly in Como.
Department of Primary Industries and Regional Development biosecurity manager Rosalie McCauley said the Quarantine Area was one of a number of strategies being undertaken to stamp out Qfly in the area. Education on proper green waste disposal was another.
"Home gardeners and gardening contractors working in the Quarantine Area are at risk of accidentally spreading Qfly by moving green waste containing fruit," Ms McCauley said.
"All green waste must be stripped of fruit and vegetables prior to disposal, and fruit must remain on site and be disposed according the guidelines of the Quarantine Area Notice.
"The easiest disposal option is to seal fruit and vegetables in a heavy-duty black plastic bag which is placed in direct sunlight for three days. The bag can then be placed in the normal rubbish bin."
Ms McCauley said other disposal options included cooking, preserving or freezing (24 hours). You can compost, but only after applying one of these treatments.
"Fruit and vegetables can also be soaked in a container with a film of white oil for at least seven days, or buried to a depth of one metre. Qfly adults can emerge from under the soil surface if not buried deep enough," she said.
The City of South Perth Recycling Centre is located within the Quarantine Area, but moving potentially infested fruit and vegetables could spread Qfly from one part of the Quarantine Area to another.
Residents are advised that all fruit and vegetables must be removed and disposed of before green waste is accepted at the Recycling Centre.
"Public support for these restrictions, which are expected to remain in place until at least November 2018, will be critical to achieving eradication," Ms McCauley said.
A map of the Quarantine Area, full list of host fruit and vegetables and more advice to residents is available on the department website agric.wa.gov.au/qfly update.
Residents who suspect they have seen fruit flies, particularly in fruit and vegetables not normally infested with fruit fly, can call the department's Pest and Disease Information Service on 9368 3080.
Alternatively they can send photos via the department's MyPestGuide Reporter app (Google Play Store and Apple iTunes Store), or email padis@dpird.wa.gov.au.

Photo caption: Department of Primary Industries and Regional Development officer Rodney Phillips and City of South Perth waste supervisor Daniel Roepen.

Media contacts: Jodie Thomson, media liaison +61 (0)8 9368 3937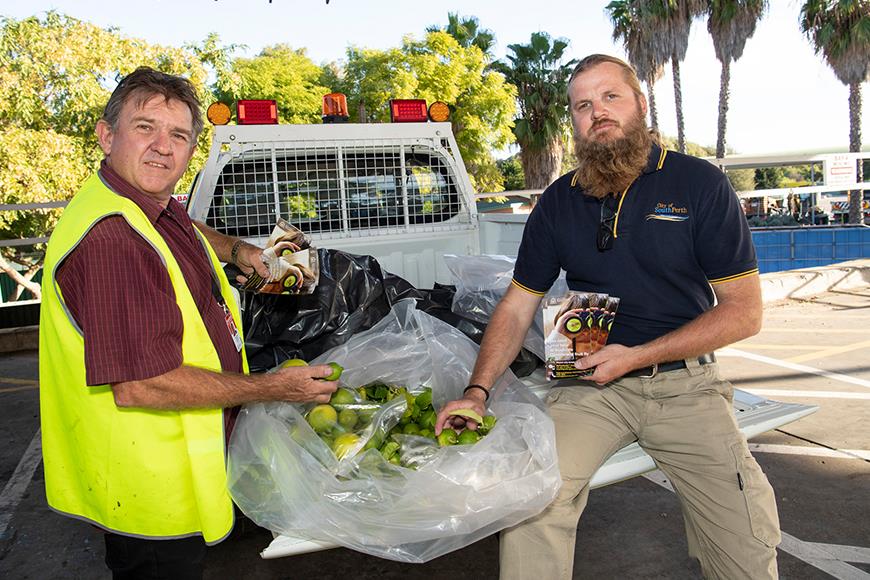 The City of South Perth is assisting the Department of Primary Industries and Regional Development to help stop the spread of the destructive pest, Queensland fruit fly.
Contact us
For more information, please contact the City.