Disability Awareness Week
In celebration of Disability Awareness Week from 3 to 9 December 2017, the City has announced the hire of its beach wheelchair will now be available free of charge.

The beach wheelchair is available for adults and children to use at Sir James Mitchell Park's foreshore beach and water areas.

In an effort to encourage more people to use the beach wheelchair bookings are no longer required and can be accessed by collecting a key from the City of South Perth Civic Centre, cnr Sandgate St & South Tce, South Perth or local restaurant Mister Walker, located on the Mends Street Jetty from 7.30am, 7 days a week.

Funded jointly by the City of South Perth and Disability Service Commission, the wheelchair has large inflatable balloon-like tyres designed to enable easy and safe travel over rough terrain.

It is stored in a custom-built shed near the Scented Gardens, which connects to the Easy Access Disabled Parking bays in the car park at the eastern end of South Perth Esplanade. Accessible facilities in this section of the park include ramp access to the quartz beach, a water fountain, picnic table and barbecues.

In line with the City's Disability Access and Inclusion Plan 2017-2021 (DAIP), the City is working to create a community, which is accessible to everyone including people with disability.

To view the full range of services available to people with disability visit the Community section of the City's website.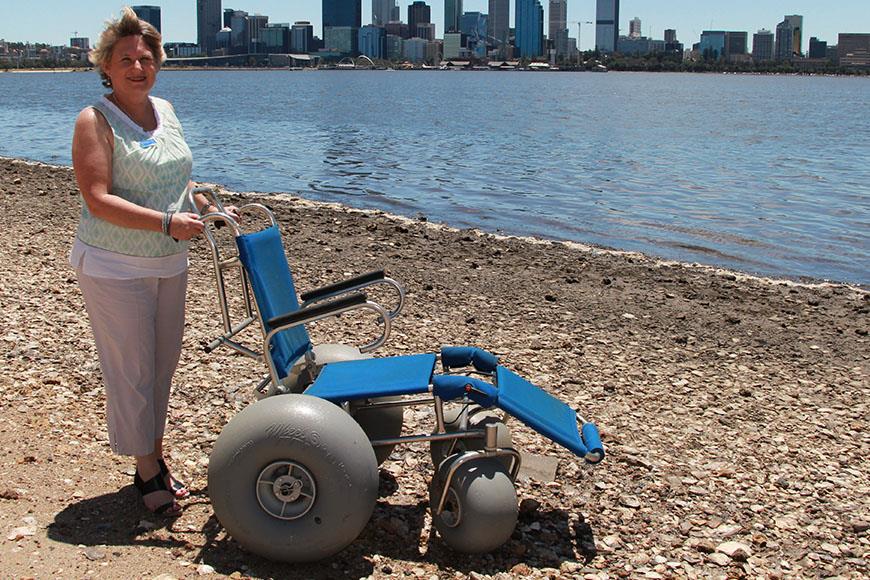 Related Documents
Media contact
For media enquiries, please contact the City's Communications Officer.