Perth Zoo and City of South Perth renew partnership for three years
The City of South Perth and
Perth Zoo
have signed an agreement to renew their partnership for a further three years.
The agreement which extends to 2020, will see the City and Perth Zoo collaborate, consult and share information on matters relating to water management, sustainability and recycling.
Additionally, both parties will continue discussions on transport initiatives, planning and promotional opportunities including raising awareness of the Zoo's Wildlife Conservation Action fundraising program.
The Wildlife Conservation Action program has invested more than $3.5million into field-based conservation since 2007, delivering tangible, long term outcomes including saving threatened wildlife, protecting and securing natural habit, funding anti-poaching units, providing community education and employment.
"The history and development of the City of South Perth is linked closely with that of Perth Zoo. Every year thousands of people are drawn to South Perth to visit the Zoo. The City's partnership with the Zoo demonstrates a shared commitment to the community, education, environment and sustainability. We look forward to working with the Zoo into the future," City of South Perth Mayor Sue Doherty said.
Perth Zoo's Acting Executive Director, Maria Finnigan said: "As we enter our 120th year of operation, it's exciting to continue and strengthen our relationship with the City. For generations locals have embraced our Zoo, today a large proportion of our visitors are local families who share in our conservation achievements and use our zoo to introduce others to the remarkable world of wildlife. We are very proud of the role we play and the relationship we have with the South Perth community."
Established in 1898, over twelve decades, the Zoo has grown from a place of recreation and fascination to one of education, conservation and inspiration. As a modern zoo, Perth Zoo is part of a global conservation community and continues to be a popular destination that delivers enriching experiences to generations of WA and visitor families. The Zoo aims to connect people with nature, inspire a passion to protect biodiversity while providing meaningful ways for people to act for wildlife conservation.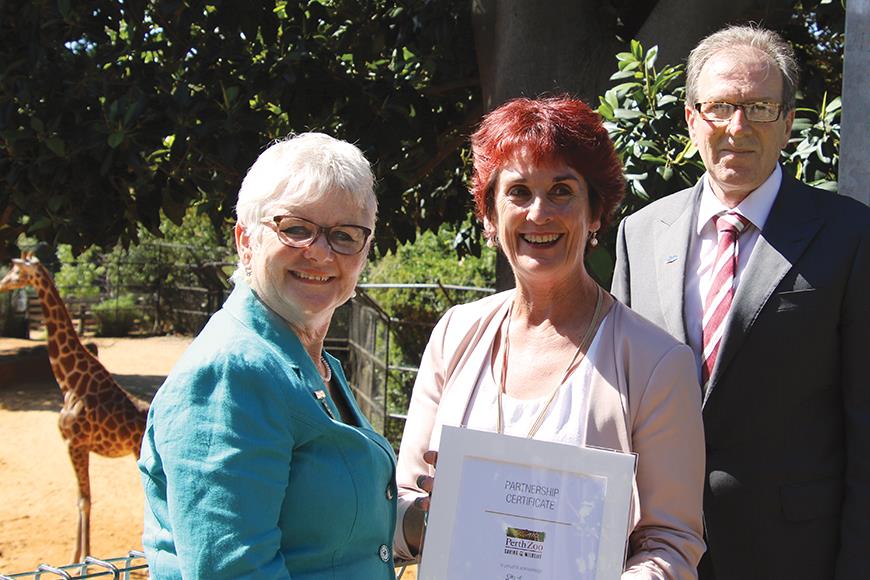 City of South Perth Mayor Sue Doherty, Perth Zoo Acting Executive Director Maria Finnigan and City of South Perth CEO Geoff Glass.
Media contact
For media enquiries, please contact the City's Communications Officer.