Public artwork set to illuminate South Perth foreshore
As part of the City's calendar of Summer Arts and Events, Confluence an interactive art installation by Sean van der Poel will illuminate the South Perth Foreshore from 8-12 March 2017.
Conceived as a dream-like dimension rising out of the surrounding landscape, Confluence is a temporary artwork comprised of 148 inflated cones, ranging in size from 25cm to 3 metres tall.
The sculptural work invites visitors to step into a dense maze of the cone-shaped forms and watch as the responsive lighting illuminates their path, taking them on a sensory journey into the unknown.
"Within each cone is a motion sensor attached to LED lights. People moving through the artwork after dusk will activate the lights, with the illuminations remaining for a short time as others pass though nearby spaces," City of South Perth Mayor Sue Doherty said.
"Confluence provides an opportunity for photographers to capture the magic created by people's interactions and experiences with the artwork on our stunning foreshore."
"People can wander through the network of cones or simply look at the artwork from a distance. Each person's experience of the work will be different.
"Whether it be permanent or temporary, public art is a means of celebrating the identity and history of the community, enhancing the environment and contributing to a sense of place."
People are encouraged to share their photographs of the artwork on social media by tagging the City of South Perth and using #discoversouthperth. Like the City's Facebook event page for updates.
The City of South Perth has a growing inventory of distinct and diverse public artworks that contribute to the City's unique culture. For more information visit the Public Art page of the City's website.
8 – 12 March 2017
Open daily and nightly
FREE
South Perth Foreshore (East of Mends St Jetty)
South Perth Esplanade, South Perth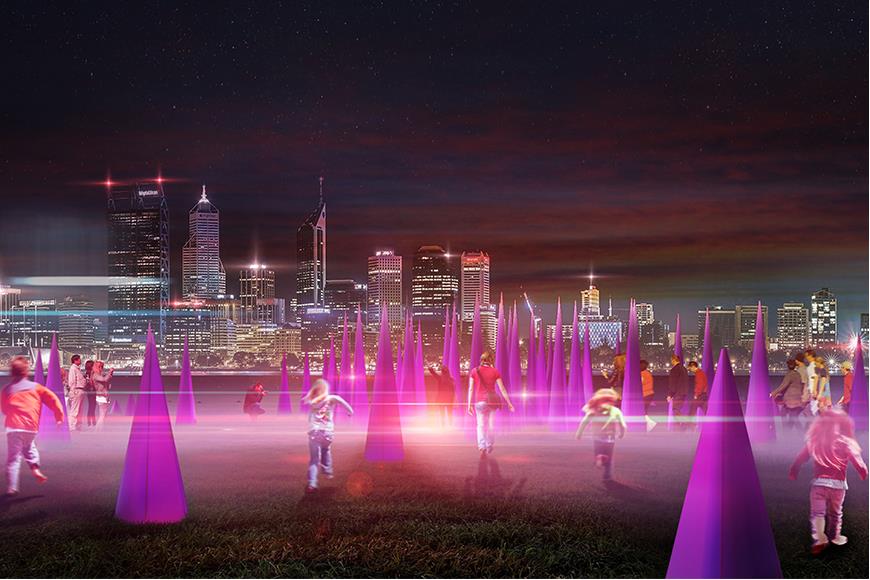 Media contact
For media enquiries, please contact the City's Communications Officer.