Exceptional volunteers recognised at breakfast ceremony
Local volunteers were recognised for their exceptional efforts by the City of South Perth at a breakfast held in the South Perth Community Hall on International Volunteer Day, Monday 5 December.
Attended by over 100 volunteers and guests, the City's Thank a Volunteer Day breakfast is an annual event held to celebrate the invaluable contribution that volunteers make in our community and to acknowledge their commitment and service.
This is the tenth year that City has run its Volunteer of the Year Awards, which recognise outstanding volunteers working in the local community, who have been nominated by individuals, groups and organisations. Nominators were asked to identify individuals who have added significant value to their organisation or to the community in general, and whose efforts to enhance community life were inspirational to others.
Each of the 37 award nominees received a certificate of appreciation from Mayor Sue Doherty, with trophies presented to the winners of the three categories.
"I am constantly inspired by the generosity of spirit of members of our community who step forward and give of their time and talent," Mayor Doherty said.
"There is a willingness to lend a hand and make our community of South Perth and the community beyond the best it can be. It is our people who shape our strong, resilient and generous community, and I think we are fortunate to live in a place where giving and kindness are valued. Volunteers have always been a strong cornerstone of our City and they make an enormous difference, generously contributing their time, skill, passion and personal resources without the expectation of reward.
"I extend my heartfelt thanks to each of the nominees in the 2016 Volunteer of the Year Awards, and warm thanks to you and all other volunteers from the City of South Perth, and pay tribute to your dedication and passion."
2016 Winners
Volunteer of the Year Award (open to individuals above 25 years old)
Fay Collins
Fay has lived in the Manning area and volunteered at St Pius Parish for 50 years; preparing the church for mass, facilitating the children's mass and fundraising. In addition, she has been a long-serving volunteer at St Pius X Primary School for over 26 years.
Young Volunteer of the Year Award (18-25 years old)
Troy Malatesta
Troy started volunteering at Manning Primary through the Curtin Volunteers Program, 'Support a Leader' in 2015. He works alongside teachers on a weekly basis, in-between his full-time engineering studies and part time work. Troy assists the staff by helping maintain the information and communications technology infrastructure. He also performs routine upgrades on 150 school and student devices. His contribution has made a huge difference to learning outcomes for students and he has been an invaluable support for teaching staff at Manning Primary.
Junior Volunteer of the Year Award (under 18 years old)
Lee Bing Tan
Lee is the 2016 Captain of Community Services at the Penrhos College. She is a member of the school's Interact Club and has helped fundraise for South Perth Rotary and its various charities. Lee is passionate about advocating for women who have suffered domestic violence. She coordinated Year 12 Penrhos students to donate items to the Patricia Giles Centre, a centre for women and children who have been effected by domestic violence. Lee has also volunteered her time to local fun runs, Bahai Community Day Camps, Lifeline, Starlight Foundation, the City of South Perth's Australia Day event, Kensington Primary School and charities such as Manna Inc, JY group and Girls in Education.
Visit our volunteers web page for more information about volunteering and for photos from the breakfast.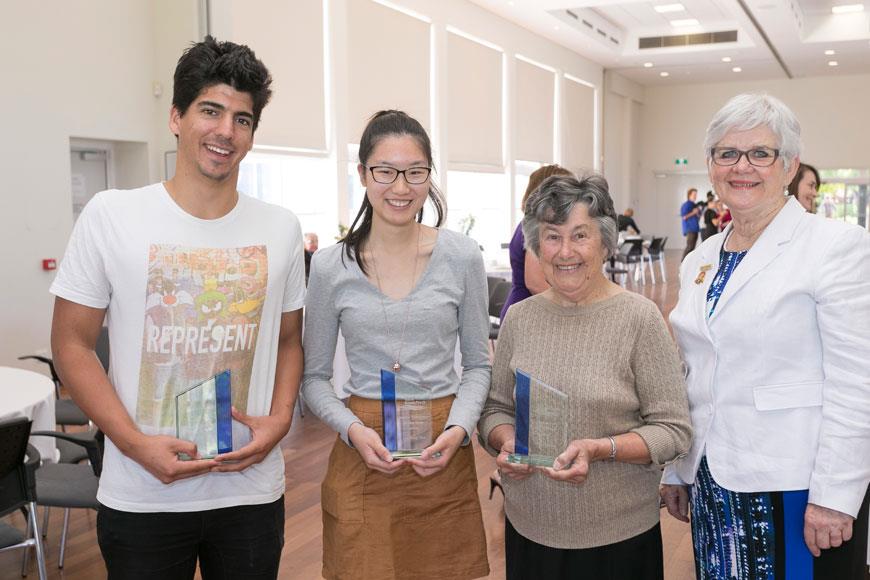 Winning Volunteers
Media contact
For media enquiries, please contact the City's Communications Officer.