Emerging Artist Award People's Choice announced
The 2016 Emerging Artist Award has concluded for its 14th year and the City is proud to announce winner of the SOCO Realty People's Choice Award. Chris Goldberg was awarded the prize for her work Music Man after receiving the greatest number of votes from the patrons who visited the exhibition.
The 2016 Emerging Artist Award once again exhibited a significant number of quality entries, with 73 artworks on display to the public from Friday 21 October to Saturday 29 October 2016. Sculpture, video, photography, acrylic and mixed media all featured in this year's exhibition which is the most diverse in the Award's history.
The Award has evolved into a recognised prize and exhibition for local emerging artists over the years, with an established reputation for showcasing rising talent in the Western Australian art scene.
Since its inception in 2003, the Emerging Artist Award has attracted an impressive catalogue of West Australian artists and each year this grows in numbers. In 2016 a record of 205 entires were received.
WINNERS
2016 City of South Perth Open Award
Beverley Iles, Stack
Concrete with site specific soils
Liquor Barons on Angelo Local Theme Award
Melissa Lui Yuen, The Earth Laughs in Flowers
Mixed media on canvas
John McGrath MLA Young Artist Award
Tom Ansell, Searching
Toothbrushed bitumen on cardboard
Como IGA Secondary School Student Award
Maggie Ziatis, Fighting Fish
Paper
White Frame Local Artist Award
Myra Mitchell, Tides of September
Mixed media on canvas
Judges also awarded High Commendations to five artists:
• Jillian Kurz for the work Float in the Local Artist category
• Kelwin Wong for the work Cygnet Theatre, Como in the Local Theme category
• Rachelle Dusting for the work Through My Eyes – A Portrait of Liza Harvey in the Young Artist category
• Takeo Kameoka for the work Self Portait in the Secondary School category
• Bec Inwood for the work Constructing Self in the Open category
Soco Realty People's Choice Award
Chris Goldberg, Music Man
Oil on canvas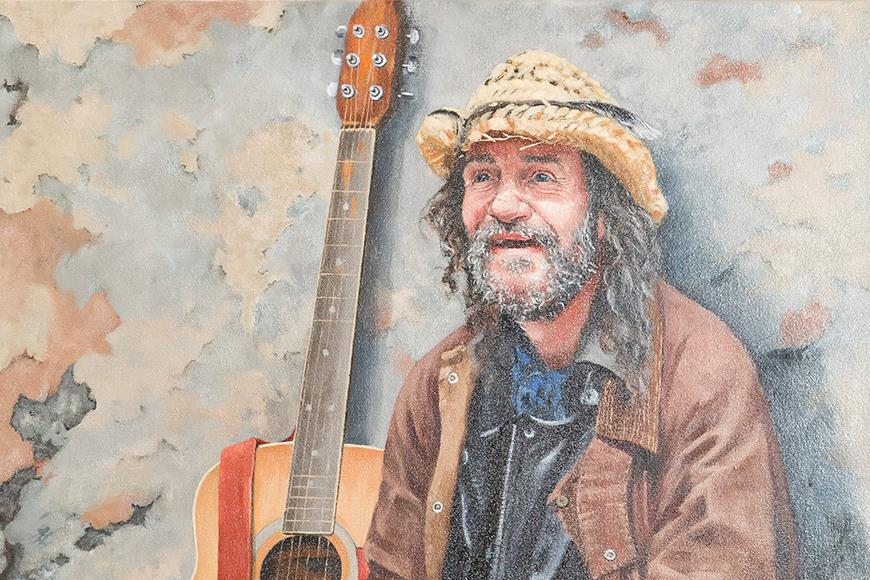 Soco Realty People's Choice Award winner: Chris Goldberg, Music Man, Oil on canvas.
Media contact
For media enquiries, please contact the City's Communications Officer.