The City of South Perth hosts a family friendly Australia Day celebration at Sir James Mitchell Park on the beautiful and iconic South Perth foreshore on 26 January each year.
The day commences with a special Australia Day Citizenship Ceremony, which includes the welcoming of the City's newest Australian citizens, raising of the Australian flag, presentation of the Australia Day Active Citizenship Awards, and the Ted Maslen Memorial University Exhibition Award.
The Rotary Club of Como then fires up the BBQ to host a great Aussie breakfast to get you fuelled up for the day ahead.
The Celebration Zone, supported by Lotterywest is a smoke and alcohol free area packed with free activities, rides and entertainment for all ages. The event kicks off at 3pm and concludes at 7.30pm in time for the City of Perth Skyworks at 8pm.
The Celebration Zone attracts families, youth and seniors from a wide range of demographics and offers plenty of rides, activities and cultural group performances.

Find your photo
Did you attend the City's 2019 Australia Day celebrations on Sir James Mitchell Park? See if our photographer snapped your picture on our Flickr gallery.
News Listings
January 2019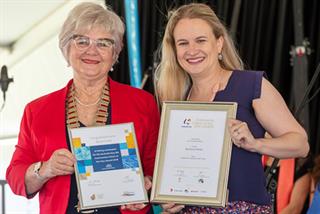 Auspire Community Citizen of the Year Awards recognises local citizens.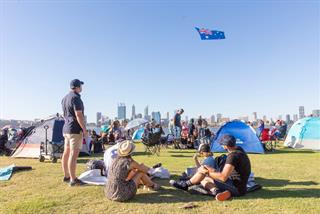 The City welcomed new citizens and the community celebrated Australia Day at the City of South Perth's inclusive, family-friendly celebration on Sir James Mitchell Park, South Perth Foreshore on Saturday 26 January 2019.
Did you attend the City of South Perth 2019 Australia Day Celebration Zone? Tell us what you think and help make the 2020 event even better. Feedback closes 5pm, Monday 11 February 2019.