2022 Australia Day Afternoon Entertainment
Event Information
Date

DATE
26 January 2022
Add event to calendar

Time

TIME
3 - 7.30PM

Location

LOCATION
Sir James Mitchell Park

Cost

COST
Free

Hosted by

HOSTED BY
City of South Perth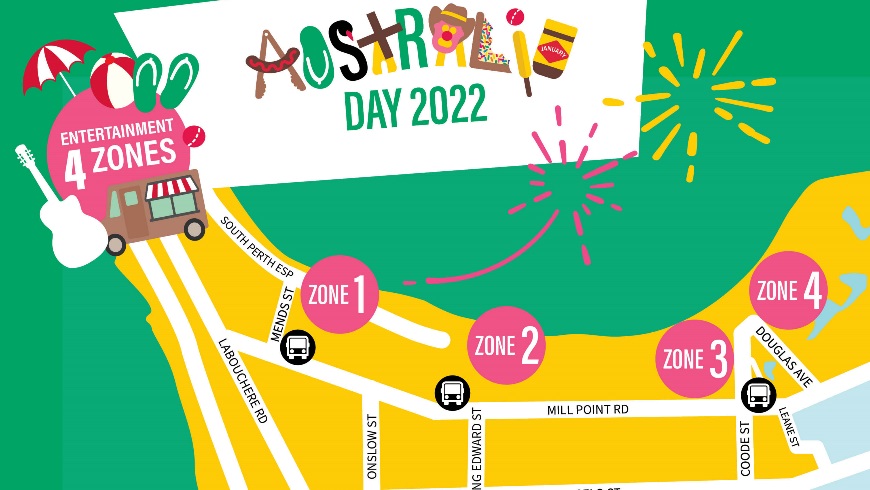 Afternoon Entertainment Zones
3-7.30pm, Wednesday 26 January 2022
Sir James Mitchell Park, South Perth
Australia Day in South Perth will look a little different for 2022. The COVID-19 pandemic has changed the way we plan for large-scale events and we have had to make some changes to the way we usually do things.
There will be four entertainment zones along the South Perth foreshore providing ideal locations to enjoy the afternoon with family and friends and then providing great viewing spots to watch the City of Perth Skyworks in the evening.
There will be entertainment in each of the zones including:
Free kids art and sports activities

Toddler zone
Music
Food
Shade
All activities in the entertainment zones will wrap up at 7.30pm to allow you time to find a spot to watch the City of Perth Skyworks fireworks display at 8pm.
Find out more, follow the City's Facebook page.
COVID-19 Information
The health and wellbeing of our community and staff is our top priority. We would like to remind attendees to be COVID safe:
Wear a mask

Maintain social distancing - keep 1.5m between yourself and others

Wash your hands regularly - practice good personal hygiene
Stay home if you are unwell or have a cough, fever, sore throat, fatigue or shortness of breath.
For more information visit the State Government website.
This event has been assisted by the Australian Government through the National Australia Day Council.

Event contact
For event related enquiries, please contact the City's events team.