Words with Wine - John McCombe and Bill Amann
Event Information
Date

DATE
21 April 2021
Add event to calendar

Time

TIME
6.30 - 7.30PM

Location

LOCATION
South Perth Library
Cnr Sandgate St & South Tce, South Perth

Cost

COST
Free, booking essential

Hosted by

HOSTED BY
City of South Perth Libraries

Extra Information

Catering includes one glass of wine per ticket. Tea, coffee and non-caffeinated drinks. In the interests of more sustainable living please BYO mug and/or water bottle.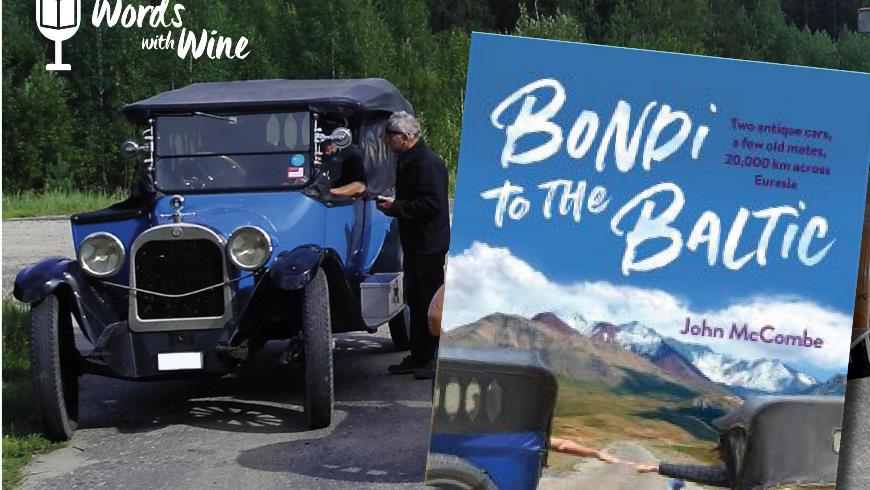 Two antique cars, a few old mates, and the journey of a lifetime. Join us to hear this incredible story of travel from "Bondi to the Baltic".

Join the book author and one of the drivers to hear this incredible story of driving a 1920 Dodge Tourer and a 1927 Willys Overland Whippet, from Australia to Finland via the old Silk Roads route. Twelve countries, 20,000 kilometres, over 6 months.
About the book
Take a couple of vintage cars and their owners' determination to drive them on a pilgrimage from Australia to Finland, and you have a fascinating story about some foolhardy, adventurous blokes, told through photos and the distillation of blogs and diary entries.

Starting out from Thailand, their travels took them through Laos, China, Kyrgyzstan, Kazakhstan, Uzbekistan, Turkmenistan, Azerbaijan, Georgia, Armenia, Russia and Finland – a six-month journey spread over two legs in successive years.

Told in an engaging, self-deprecating and personal style, the book takes the reader on a journey that follows the ancient Silk Road route into the mountains of south-west and western China and the Tibetan Plateau where Muslim and Buddhist communities have lived for centuries, then through the '-stans', and beyond.

Many adventures, impossibly sticky situations, near misses and regular mechanical breakdowns were inevitably resolved with the support and civility shown towards this motley group of travellers in their vintage cars, by locals renowned for their hospitality. Nothing was ever too much trouble.

They had no sponsor, no professional photographer or filmmaker, no journalist to publish the story, no 'name' to add fame and celebrity, no contract in the pocket for a coffee table book with quality photos or informed historical and cultural insights, and no travelling mechanical workshop. There was just a determination to get each of these old cars to Helsinki in one piece and smell the roses along the way.
About the author
John McCombe life began on a NSW North Coast dairy farm, and his working life has included farm work, teaching and lecturing, union advocacy, mining and finance, and a camping tour driver.

John's love of low budget international travel started in the 1970s and has continued over four decades and across five continents. Later in life he was invited to join the eccentric Bondi to the Baltic convoy, travelling from Australia to Finland, through twelve countries and over 20,000 kilometres.

John managed the team's blog on the trip and his fellow crew members encouraged him to turn it into a book.

John will be joined by one of the drivers, Perth resident Bill Amann.
About Words with Wine
Enjoy a glass of wine and a platter while listening to a published author speak about their work and read an excerpt or two. Most authors will share some information about their writing process, how and why they came to write their featured prose or poetry and they may share some interesting or entertaining related trivia. This event series is designed to spotlight a blend of established and emerging authors.
Catering includes one glass of wine per ticket. To help reduce waste, please bring your own water bottle, mug or keep cup for tea/coffee and water.
Book sales and signing available on the night.